The one..the only...FLAAAAAAAASHHHHYYYYY JACKSON!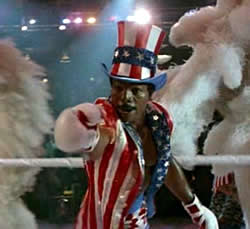 (FLAAAAASHY in a press conference)
"I'm FLAAAASSSHYYY baby...I'm FLAAAAAASSHHHY"
"Look fools, the other night, I was smockin' my chronic...my mans brought me a few tapes of some recent fights....and I was watching these motherfuckin' Lightweights and Junior Welterweights....and I was thinkin..goddamn...I'm way too FLAAAAAASSSHHY for these crude (crowd: WHAT!) motherfuckers....who are clearly below my skill and INTELLIGENCE level (WHAT!?). You see, lemme summarize what I see
We have a fuckin' popstar BITCH, JoJo, who is a pretty good fighter. But is the hoe as Flashy as Flashy? NO!
We have Guzman, who used to be my stablemate..and he's pretty good. But is he as skillfull as Flashy? NO!
We have Collazo, who is overrated! Is he as skillfull as Flashy? NO!
We have Tera Patrick, old ass pornstar whore....is she as FLAAAASSHY is Flashy? NO!
We have Cotto, who is basically half dead from all the wars....is he as Flashy as Flashy? NO!!!
We have Quintana...my former stablemate, who is a straight BITCH....is that motherfucker..as FLASHY AS FLASHY? FUCK NO!
Is Ray De Los Santos...as Flashy.....as Flashy? FUCK NO!
Now I ain't gonna say shit about Zab...but is he as Flashy as Flashy? NO!!!
You see, Flashy takes his business very seriously. My business is makin motherfuckers look crude.
Yes motherfuckers, I not only LOOK like Apollo Creed from Rocky, I am as slick as his character.
So fuck y'all punkasses. I'ma put away this fuckin' chronic, get back in the gym, and straight son you bitches. I'll smoke y'all up...like Zab smokes up his weekly stash.
YOU WILL REMMEBER THE NAME FLASHY JACKSON...for I am the flashiest motherfucker up in this bitch.
(Crowd Boo's)
He's BAAAAACK!