Ozell Nelson Speaks on a Possible Jermain Taylor-Jeff Lacy Fight
By Ryan Songalia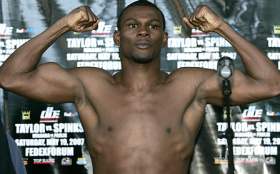 When Jermain Taylor and Jeff Lacy jumped to the pros after representing the United States in the 2000 Olympic games, it was inevitable that they'd one day cross paths in the paid ranks.
Few anticipated that their meeting would come in a crossroads fight.
"I always thought they'd fight a lot sooner," said Ozell Nelson, trainer and father figure to Jermain Taylor. "I think if they would have fought sooner it would have been a lot bigger."
As is, Taylor is on the rebound following two consecutive losses to Kelly Pavlik at 160 pounds while attempting to assimilate himself into the super middleweight division. Lacy has been flirting with a move up to light-heavyweight after his first loss to Joe Calzaghe in 2006. He has since won decisions over Vitali Tsypko and Peter Manfredo.
Still, with their name recognition and potential for fireworks, a fight between Taylor and Lacy remains a mouth-watering possibility for fight fans. That's if plans can be finalized between Dibella Entertainment, representing Taylor, 27-2 (17 KO), and Lacy, 23-1 (17 KO), promoted by Golden Boy Promotions.
Nelson, who guided Taylor through his amateur career, says Taylor has been "in and out" of the gym since dropping a twelve-round decision loss to Pavlik in February.
"He just comes in and hits the bag. Lately he has been off. He just came back from a cruise and picked up a little bit more weight than usual."
Lacy told the Tampa Tribune that he intended to move forward with a July tuneup bout before facing Taylor. If a tuneup could not be arranged then he would prefer to fight Taylor next year.
Lou Dibella has stated that a November date is currently in discussion.
"I feel he doesn't need a confidence booster fight before fighting Jeff Lacy," Nelson says, brushing aside a rust-shaking bout for Taylor. "Jermain loves to fight name guys. He's not known to take lesser fights. He and Jeff Lacy had talked about fighting each other. So it can happen but we're going to have to confer with our promoter and manager because they're the ones who make the decisions."
Ricardo Mayorga, Brian Vera and Felix Trinidad had been mentioned as potential opponents for Taylor, though none of those ideas made it past discussions. Lacy was scheduled to appear on the Shane Mosley-Zab Judah card before a Judah injury caused the entire event to be canceled.
Though nothing has been finalized, Nelson did not refrain from speculating on how the fight would play out. "I think style-wise they match up perfectly. Jeff Lacy is a strong guy on the inside with a good left hook, but I think he's a lot slower than Jermain Taylor.
"I'm positive Taylor would win."
Nelson became Taylor's chief second following the first Pavlik fight, ending an unimpressive four-fight tenure with Emmanuel Steward. Prior to that, Pat Burns had guided Taylor to a 25-0 record.
"Basically, we're just getting back to the basics, right where we came off from the amateurs. Using the jab more, not trying to knock people out with one punch and using more lateral movement."