Abraham-Miranda II: A Rematch Worth Waiting For
By Ryan Songalia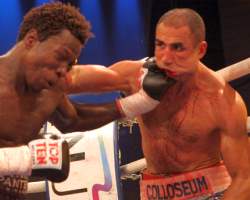 Controversy breeds rematches.
Five point deductions, one broken jaw, two lengthy reprieves and many low blows later, we're still trying to pick apart and analyze what happened nearly two years ago in Arthur Abraham's IBF middleweight title defense against Edison Miranda in Wetzler, Germany.
On June 21 both men will hopefully resolve their unfinished business, this time in Miranda's promoter Warrior Boxing's house arena, Hollywood, FL's Seminole Hard Rock Hotel and Casino.
Hopefully being the operative word.
The target of most debates in the first fight came with a minute left in the fifth round. As the champion lunged into an exchange, he walked way complaining of a head clash, earning an injury timeout.
Though video replays clearly prove the butt to be intentional, evidence of a dislocated jaw was apparent well before the infraction occurred. For nearly five minutes Abraham was allowed to rest and recover as his corner argued for a disqualification or technical decision.
Referee Randy Neumann, from New Jersey, ruled that although the butt was deliberate, the injury sustained was not sufficient enough to head to the scorecards. Either Abraham had to continue or he would forfeit his belt by TKO.
"We're gonna fight, wanna fight?" Neumann asked Abraham.
"No," Abraham replied.
Almost as soon as the word left Abraham's swollen mouth, a loud "yeah" sprung forth from the Abraham corner.
"I was standing there and the ref yelled out TKO win," said Miranda, 30-2 (26 KO), explaining his recollection of the incident. "I knew I won and then I hear this arguing from Abraham's promoter in the stands. He was demanding that the ref make the fight go on. It was the strangest thing ever, especially with his promoter telling the ref what to do and with him getting all of this medical treatment from his corner."
Eyes glaring out from his own corner towards his opponent, Abraham appeared galvanized by his corner's support and energized by the extended respite.
Before resuming the action, Neumann deducted two points from Miranda for an intentional foul. Three more points, for low blows to the groin and hip, would be extracted from the challenger later in the fight.
Abraham, 26-0 (21 KO), won the rest of the round and even appeared momentarily to have Miranda in dire straits. Periodically Abraham would give as good as he got, but the specter of his hanging, broken jaw with blood streaming from his lips brought out the bull in Miranda. From then on out Miranda was the aggressor while Abraham picked when to fight and when to move.
Despite many pundits declaring this fight distance-proof, this jigsaw puzzle of an algebra problem would be left in the judges' hands. The decision was unanimous; Abraham escaped with his belt.
Abraham remained hospitalized for a week following the fight, having two titanium plates implanted into his jaw that have since been removed. Yet it's Miranda who has a bad taste lingering in his mouth from the first fight.
"In normal circumstances I would have knocked him out. However, I was not fighting one fighter that night, I was fighting Arthur Abraham and Randy Neumann. It's almost impossible to knock a man out when he has the help of the ref. Things will be different this time, I promise."
Appointed as third man this time around is Tellis Assimenios, a Florida-based referee who officiated Miranda's last fight with David Banks. Assimenios' most noteworthy assignment came ten years ago when David Tua, who was far behind against Hasim Rahman, was allowed to nail "The Rock" with a damaging left hook after the bell without drawing a penalty.
Rahman was stopped in the next round.
According to Warrior's Boxing, the ring's dimensions will be a sizable 22x22 inside, and 24x24 around. The extra room will benefit Abraham, who is the more likely of the two to use the ring to create punching room.
Ring size appears to be the only concession made to Abraham. The weight limit for this bout will be 166 pounds, 6 pounds north of where Abraham holds a title belt. Miranda, who had moved up to super middleweight following a stoppage loss to now-middleweight kingpin Kelly Pavlik, would not be able to make 160.
Steve Benbasat, co-manager of Miranda, clarifies: "We were trying to put together a fight with Kessler at 168 and then Abraham's people came to us with interest in fighting Miranda in the US at a catch weight between 160 and 168. We told them it could not be any less than 166 and they agreed."
Though most feel the weight limit will be more beneficial to Miranda, Abraham is also relishing the extra breathing room. "I feel even stronger. Making weight can be a real torture but I do not have to do that this time."
Miranda believes that having the fight in America as opposed to Germany will even out the playing field and significantly affect the outcome.
"Now that we are having this fight in America, I feel confident that we will get fair officiating. When it's me against Arthur Abraham, and only Arthur Abraham, he will stand no chance to beat me."
Abraham's team headed over to America a week and a half in advance in an effort to reduce the effects of jet lag and to adjust to the tropical South Florida climate. Along with passports and gloves, Team Abraham also boarded with a great deal of confidence.
"Everything has gone well during the preparation," Uli Wegner, trainer of Abraham, expressed in a press release. "I expect a very interesting fight. I am very optimistic because Arthur has trained extremely well. He showed in the first fight how big his heart is and I am sure he will prove it again in America."
Equally assured is the Miranda faction, who have been winding down training camp in Puerto Rico.
"I cannot remember a training camp that has been better than this one," Miranda says. "I am in the best shape of my life. I have been working very closely with a nutritionist and I feel great. The fans will see a perfectly conditioned Edison Miranda on June 21."
Dyah Davis, a Florida-based light-heavyweight with a 12-1 record, spent considerable time in Miranda's camp as a sparring partner. Davis says he notices a change in Miranda as a fighter over the past year since moving up in weight.
"There's a big difference in his focus. He's a lot stronger now. He's growing as a fighter.
"He's keeping on a lot more pressure. He's a lot smarter as a fighter. That's all a credit to his trainer Jose Bonilla. He really wants this fight. His right hand is a lot harder than it was a year ago. Whenever I found myself exchanging with him, I realized he was an all around better puncher now.
"Abraham is going to be shocked in his American debut. He won't make it past six."
Perhaps more significant than weight and other tangible variants is the mental aspect of the fight. How much will the trauma of the first fight affect Abraham?
Abraham's ability to survive seven rounds with the lower half of his head dangling in the breeze is a serious moral victory for "King Arthur" heading into Saturday's fight. If in such a compromised state Abraham could hold his own, what more could be done with a mended mandible?
"He couldn't defeat me when I was seriously injured," Abraham told Germany's Boxnews.com. "Next time I'll climb into the ring unhurt and Miranda won't survive the sixth round. Even with a fractured jaw I almost knocked him out."
Since that fateful night in Germany, Abraham has knocked out four consecutive title applicants, though none of those challengers rise to the level of danger Miranda presents. That hasn't been lost on Miranda.
"Although he knocked out four people since our last fight," Miranda states, "no one has tested him like I have. I feel that he knows this. When the bell rings and he is staring at me, I think it will be very difficult for him to forget about how I dismantled his jaw and sent him to the hospital. Psychologically, this must affect him in some way or form.
"But I'm not counting on that. I have to give him credit for lasting 7 rounds in that condition. He is a tough guy, and I will go into this fight not worrying if his jaw is bothering him. Instead, I will stick to my game plan as I do with every fight."
Historically, fighters who have had their jaws broken have faired well in rematches. The only two circumstances this writer can immediately recall have ended with the previously injured pug turning the tables. Muhammad Ali was able to overcome his infirmity to best Ken Norton in two consecutive bouts, while Antonio Tarver heaped a definitive whipping on his former conqueror Eric Harding.
Though nobody is expecting a rerun of Leonard-Benitez, personal animosity usually translates into something captivating. There is no need for a title belt in this fight; They are fighting for the world championship of each other.
Abraham and Miranda, whether willingly or unwillingly, have become entwined in a classic boxing rivalry.
"Usually I respect each of my opponents," said Abraham, "but Miranda isn't a good sportsman. He's strong and fast but something really important is missing: fairness. From the beginning on he was punching low again and again. He was butting me with his head and he was punching after the round has been finished – Miranda's way to fight is unfair, inhuman and dishonorable."
Says Miranda, "I respect Abraham's accomplishments, but I know deep down inside that he was handed a victory in our previous fight. I think he knows this as well and this is why he chose me as his first opponent in America. He needs to prove to his fans that he can 'really' beat me since he did not before. For me, I get my chance at revenge for the robbery that took place in Germany.
"This fight is personal."
Any questions or comments? Send them to me at mc_rson@yahoo.com.