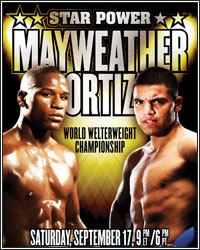 The numbers are in! After a month of speculation, Mayweather Promotions and Golden Boy Promotions released a joint press release revealing that the September 17 clash between undefeated pound-for-pound champion Floyd Mayweather and former WBC welterweight champion Victor Ortiz generated 1.25 million pay-per-view buys. The 4th round knockout victory for Mayweather grossed $78.44 million in revenue, making it the second highest-grossing non-heavyweight fight ever, trailing only the $136.85 million in revenue that Mayweather generated in his victory over Oscar De La Hoya in 2007. Combined with his dominant win over Shane Mosley, which grossed $78.33 million in revenue, Mayweather has now been involved in the top 3 highest-grossing non-heavyweight fights in the sport.

Check out the official press release below for more details:

Floyd Mayweather puts more meaning to his ring name "Money" every time he fights. With early pay-per-view numbers counted and confirmed, the pugilist's recent STARPOWER fight against Victor Ortiz generated buysfrom 1.25 million homes with a value of $78,440,000 dollars in pay-per-view revenue. These numbers make the event the second highest grossing non-heavyweight pay-per-view event of all time.

With another successful pay-per-view event under his belt, Mayweather continues his reign as the biggest and most lucrative attraction in the sport. He has now appeared in the three biggest non-heavyweight pay-per-view events in the sport's history, including Mayweather vs. Oscar de la Hoya ($136,853,700), Mayweather vs. Ortiz ($78,440,000 million) and Mayweather vs. Sugar Shane Mosley ($78,330,000 million).

"My motto is 'hard work and dedication' and I have shown this throughout my entire career, which has allowed me to go out and perform each time I step in the ring," said Mayweather. "I give the fans everything I have with the best competition and exciting fights. I must be doing something right as they keep buying my fights and I appreciate their tremendous support. It feels good to be able to generate such a great interest in the sport."

"Every time Floyd steps into the ring, he reminds us that he is the greatest fighter in the sport today and certainly its biggest star." said Leonard Ellerbe, CEO Mayweather Promotions. "The financial success of his fight with Victor Ortiz reinforces Floyd's position in the sport as iconic and he should be appreciated for bringing all of this attention and good fortune to the sport. His pay-per-view success is staggering and the history books will reflect this impact."

"STARPOWER showed again why they call him "MONEY" Mayweather," said Richard Schaefer, CEO Golden Boy Promotions. "When it comes to pay-per-view, Floyd is clearly in a league of his own. Not only does he now hold the record for the top three grossing non-heavyweight pay-per-view events, but he also holds the record for the single biggest pay-per-view event of all time. I am excited to continue to break records with Floyd and his Money Team, because records are made to be broken!"
[ Follow Ben Thompson on Twitter @fighthype ]