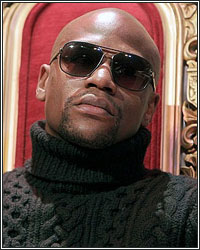 Undefeated pound-for-pound champion Floyd Mayweather surrendered in a courtroom on Friday to begin serving the three-month jail sentence that he was given back in December after pleading guilty to misdemeanor domestic battery and no contest to two harassment charges. With friends and family in attendance and watching, Mayweather didn't say a word as he was led away to face what he once referred to as "just an obstacle that's in my way." Officially, that obstacle is scheduled to last 87 days, but with good behavior, it could be reduced to around 60 days.

According to prison officials, Mayweather will serve the majority of that time alone, in protective custody and away from the general inmate population. No TV, no radio, just a bed, toilet, sink and a small desk in 7' x 14' cell with a small window. He'll get just one hour a day for exercise, essentially putting Maywather on 23-hour lockdown inside of his cell, leaving him with a lot of time on his hands to think and reflect. Prior to reporting on Friday, Mayweather gave one final message to his nearly 3 million followers on Twitter, a retweet from his Money Team account that read, "Follow us for news, info on how to write @FloydMayweather and for an exclusive last interview airing tonight."

Although that last interview has yet to air, the following information on how to write to Mayweather was posted early Saturday morning:

ID# 01363917
Clark County Detention Center
330 South Casino Center Blvd.
Las Vegas, NV 89101

"He'll be all right," rapper 50 Cent, Mayweather's good friend, would tell reporters after leaving the courthouse on Friday. "It's an uncomfortable situation for everyone." Uncomfortable indeed. One can only hope that the time in solitude away from his friends and family does not change the fighter inside the ring.
[ Follow Ben Thompson on Twitter @fighthype ]