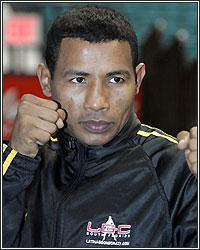 Ever since Golden Boy Promotions CEO Richard Schaefer first made the announcement that WBC jr. middleweight champion Saul "Canelo" Alvarez would be making his return to the ring on September 15th, fans and media alike have been speculating about who his opponent may be. At one point or another, James Kirkland, Paul Williams and Victor Ortiz were all given the assignment, but for various reasons, each of them were forced to withdraw from the opportunity. Some, like Cornelius "K9" Bundrage and Marcos Maidana, were rumored to be in the running, while others, like Erislandy Lara, Austin Trout, Carlos Quintana, and Carlos Molina, were begging for the opportunity. According to sources, however, a dark horse candidate has entered the mix, and there's a very real possibility that former jr. middleweight champion Ricardo "El Matador" Mayorga may win the Canelo sweepstakes.

"Golden Boy was doing a lot of talking with Don over the weekend. From what I hear, Mayorga was the topic of their discussion," a source recently informed us. Indeed, Golden Boy Promotions President Oscar De La Hoya and Hall of Fame promoter Don King were both in attendance this past weekend at the Fantasy Springs Casino in Indio, California, when IBF jr. middleweight champion Cornelius Bundrage made a successful title defense against former champion Cory Spinks. While there's no denying that both men were seen exchanging words at the event, it's unclear if any of their conversations involved Alvarez, however, our source insists that Mayorga's name was definitely brought up. "I'm telling you, they were definitely talking about Mayorga, and I don't who else they would be thinking about putting him in with. I also heard that CBS might still be in play, so you can draw your own conclusions," our source explained.

De La Hoya himself has maintained that September 15th will be a historic event that fans won't want to miss, which is a bold statement given that most of the previous names mentioned in the running to face Canelo are relatively unknown to casual fans. A name like Mayorga, however, brings instant recognition and some semblance of credibility to the non-diehard fans, as El Matador himself has faced several former world champions, like Miguel Cotto, Fernando Vargas, Cory Spinks, and Vernon Forrest, as well as a number of future Hall of Famers, including Felix Trinidad, Shane Mosley, and Oscar De La Hoya. Truth be told, he might be the perfect replacement that Golden Boy is looking for; a low-risk opponent that will help promote the event with his machismo and his brash, colorful persona. In fact, he's the type of opponent that would make the move to CBS even better, giving Canelo Alvarez enormous exposure to casual fans who have yet had an opportunity to see him perform.

There are whispers that Mayorga has already started training for a fight that has yet to be announced, so stay tuned as this story develops. Regardless of whoever Canelo does end up fighting, this merry-go-round of opponents may have gotten him more exposure than any of his actual fights.

OTHER NEWS:


Although undefeated middleweight Peter Quillin was rumored to be making his return to the ring against Marco Antonio Rubio as the co-main event on the September 8th Showtime card headlined by Devon Alexander vs. Randall Bailey, word on the street is that there's an "issue" with Rubio that may scrap the fight entirely. It's unclear at this point if Quillin will still be fighting on the card, but if they're looking for a new opponent, might I suggest Ishe Smith, who Quillin has been having an ongoing war of words with on Twitter. In fact, their beef


Speaking of the September 8th card, for whatever reason, contracts have yet to be signed to finalize the main event between Devon Alexander and Randall Bailey. It's not known exactly why the bout has yet to be finalized, but Bailey has made it crystal clear that he doesn't want the fight to take place in Alexander's hometown of St. Louis. Although a venue has yet to be determined, I imagine that may have something to do with it.


A few days ago, former jr. welterweight champion Amir Khan suffered a blow to the bridge of his nose from an inadvertent elbow during a sparring session. Although the cut was small, we're told it did require stitches and there was serious consideration about postponing his July 14th showdown with WBC jr. welterweight champion Danny Garcia. Fortunately, Khan has decided to move forward with the bout, but one has to wonder if the cut will come into play on fight night if Garcia is able to open it back up.
[ Follow Ben Thompson on Twitter @fighthype ]