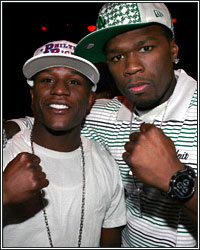 Earlier this week, news broke that rapper 50 Cent received his promoters license in the state of New York for his newly formed company, TMT (The Money Team) Promotions. Although no official announcement had been made, rumors quickly began to spread that he formed the company with undefeated pound-for-pound champion Floyd Mayweather, and they had already signed former featherweight champion Yuriorkis Gamboa and super middleweight contender Andre Dirrell. Yesterday, it appeared as though Golden Boy Promotions President Oscar De La Hoya had just received the news when he took to his Twitter account and commented, "Everyone wanting to be a boxing promoter? Good luck. Easier said then done." Apparently, 50 Cent received word of De La Hoya's tweet and responded earlier today with the following posts on his own Twitter account.

@oscardelahoya sweet heart I'm surprised you would respond to me and Floyd starting company the way you did.

@oscardelahoya girl you can call me if you want to talk. Ok

@oscardelahoya now every body wants to be a promoter girl you better stop.

@oscardelahoya I don't gamble floyd do,but I bet you you won't be promoting Floyd mayweather no more. TMT PROMOTIONS

@oscardelahoya I just want you to know if you ever want to talk you can give me a call girl

Baby girl, @oscardelahoya, baby girl you here me,stop hating STOP IT RIGH NOW.

De La Hoya, acting as though he had no idea that 50 Cent was actually a promoter now, responded:

@50cent your a boxing promoter? Didn't know,but good luck maybe we can work someday. #success #nextgeneration #GBB #TMT

To which, 50 Cent responded:

Great back pedal,can you swim backwards like that to girl?lol I except that as a apology.#GBB #TMT more success a head.

Whether or not 50 Cent's new promotional company and his involvement in boxing will play a factor in Golden Boy Promotion's working relationship with Floyd Mayweather remains to be seen, however, it's clear that he's ready to dive head first into the deep end to swim with the big boys. Stay tuned as this story continues to develop.
[ Follow Ben Thompson on Twitter @fighthype ]