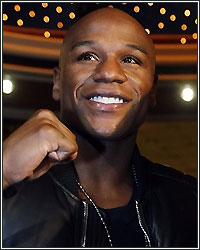 Shortly after midnight PT, undefeated pound-for-pound champion Floyd Mayweather was released from the Clark County Detention Center after serving 63 days of his 87-day sentence. Out early on good behavior, Mayweather was greeted by family and close friends, including business partner 50 Cent, who recently received a promoters license in New York for their company TMT (The Money Team) Promotions.

In fact, according to reports, upon his release, it was 50 Cent that Mayweather drove off with. Obviously happy to be free, Mayweather is said to be heading home to the Big Boy Mansion, where he plans on enjoying a home cooked meal and catching up with those closest to him. Boxing fans are waiting in anticipation to hear what Mayweather has to say about his future plans, as well as the future plans of TMT Promotions.

According to sources, Mayweather was in constant communication with 50 Cent as he began building their stable of fighters, which a week ago only included Yuriorkis Gamboa, Andre Dirrell, and Billy Dib. In the past few days, however, 50 Cent quickly added Zab Judah, Celestino Caballero, and reportedly even convinced Andre Berto to join their ranks. No official announcement on those fighters, or the direction of the company, has been made yet, however, as 50 Cent wanted to wait for Mayweather's release before moving forward. Now that Mayweather is out, a press conference may be held in the very near. According to another source, the preferred location for the announcement is in New York, but it may end up taking place in Las Vegas.

STAY TUNED FOR MORE DETAILS...
[ Follow Ben Thompson on Twitter @fighthype ]