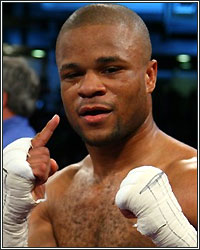 FightHype has been informed that undefeated jr. middleweight prospect Omar Henry (12-0 9 KO's) will face 24-year-old James De La Rosa (21-1 12 KO's) of San Benito, Texas in a Shobox televised main event on Friday night, November 16th.

Henry has been dubbed as a "Cotto Clone" because of his stylistic resemblance to Miguel Cotto. He most recently gained a lot of attention when he served as one of the chief sparring partners for Floyd Mayweather as Mayweather prepared for his fight with Cotto back in May. Mayweather and Henry had a sparring session which was broadcast live over the internet, during a rare occassion that Mayweather actually allowed cameras to be present.

Henry had been trying to secure an opponent since Willie Nelson decided not to take the fight. Henry has also tried to secure the likes of IBF #1 contender Gabriel Rosado and Ishe Smith in the process. De La Rosa has only fought twice since 2009, a unanimous decision loss to Allen Conyers in 2011, and most recently, a unanimous decision victory over Tyrone Brunson in March.

Email comments and questions to dkassel@fighthype.com, follow me on Twitter @BoxingObserver, and be sure to "Like" The Boxing Observer on Facebook.
[ Follow David Kassel on Twitter @BoxingObserver ]