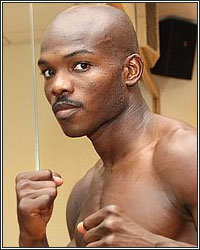 In a surprising turn of events, undefeated WBO welterweight champion Timothy Bradley refuted statements recently made by both his manager, Cameron Dunkin, and his promoter, Bob Arum. Yesterday, both men suggested that Bradley may be forced to forego a planned December 15 return to the ring due to lingering issues with the foot injury he sustained in his controversialy victory over Manny Pacquiao back in June. According to Bradley, however, that notion couldn't be further from the truth.

"My foot is fine; I've been training for the past couple weeks. There's nothing wrong with my foot," Bradley revealed in an interview today with Leighton Ginn of The Desert Sun. "I'll be back getting my sexy back, my swag back and I'll be ready for anyone they have." Apparently, the real reason why he plans on passing no the HBO date being held for him is simply because he has no interest in fighting current IBF jr. welterweight champion Lamont Peterson for a second time.

"Another thing I want people to know, and no disrespect to Peterson, but I've already been down that road. I think a rematch with him doesn't make sense at all. I think that's another thing people need to know and realize," Bradley explained. "Coming off the big Pacquiao win, it's not necessary to have a rematch with Peterson. I think he's the only guy available to fight right now, so I'm willing to wait." That's an iteresting assessment from Bradley considering that he blasted Manny Pacquiao for choosing Juan Manuel Marquez for his next opponent, as opposed to an immediate rematch with him, despite the fact that most observers believe that a second fight is not necessary.

"I think it's very beneficial for me to be in the public eye, coming off the biggest win of my career and getting back in the ring. I want to give my fans something to see from the man who beat Pacquiao," Bradley continued. "I want to get back in the ring as soon as possible, but it has to make sense. It's got to make sense. If it doesn't make sense, I'll be willing to wait on something that does make sense." In other words, the financial incentive being presented to him by his promoter isn't enough to make Bradley want to step in the ring on December 15.

Oddly enough, Bradley insists that it's not about the money; it's simply about "good" business. ""I think making the right choices for my career is the best thing I can possibly do. I'm not fighting for money. We do fight for a living, of course, so don't misconstrue what I said, but it's not about the dough. It's about good business," he added. "Fighting the right fights that will boost my career and boost my marketability, that's important for me." Well, when it comes to good business, I always thought it was about making money, so that being said, I can't see how staying out of the public eye for the next 6-8 months coming off of the biggest "win" of your career can be a good thing for a fighter still hoping to build his fan base. Go figure!
[ Follow Ben Thompson on Twitter @fighthype ]