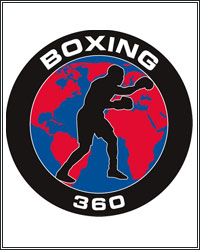 Tonight at the Remington Park Racing Casino in, Oklahoma City, Oklahoma, unbeaten welterweight standout, Vitaliy Demyanenko (21-0, 12 KOs), won a lopsided unanimous decision against Roberto Valenzuela (65-63-2, 32 KOs).

From the opening round, Demyanenko controlled the fight with constant pressure and hard combinations. Although the bout went the distance, Valenzuela never was in the fight as he was outclassed from the opening bell. The scorecards read 60-54 across the board.

"Valenzuela fought hard, but I wasn't going to be denied tonight," said Demyanenko. "I'm feeling unstoppable and I'm looking forward to stepping up the competition. As soon as my promoter Boxing 360 has something lined up, I'll be ready to go."

"Demyanenko is determined to take his career to the next level," said Mario Yagobi of Boxing 360. "He's getting better with every fight and that's what I like to see. I'm going to keep him busy as long as he's healthy. He'll return to the ring very soon."