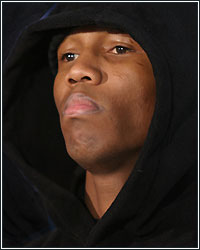 It looks like there's a strong possibility that unified jr. welterweight champion Danny Garcia will once again defend his titles at the Barclays Center, this time against Brooklyn's own Zab Judah. According to sources, both sides have already begun discussing details for the bout, which would take place some time in January 2013. Judah recently paid a visit to the Showtime offices in New York, where he reportedly met with Showtime Sports Executive Vice President and General Manager Stephen Espinoza. Not long after that meeting, Golden Boy Promotions President Oscar De La Hoya would tweet, "@SUPERJUDAH @SHOsports you ready champ?"

It's a fight that Golden Boy Promotions CEO Richard Schaefer has already expressed interest in. "Zab had mentioned Danny's name before and it's something which we're going to be discussing with his team...we would have a full house here in Brooklyn for that fight," Schaefer would comment at the post-fight press conference following Garcia's impressive 4th round knockout of future Hall of Famer Erik Morales this past Saturday at the Barclays Center. Judah was in attendance seated ringside for that performance.

As far as Judah is concerned, the Barclays Center was built for him and he would love nothing more than to face Garcia in front of his hometown fans. "I feel like the arena was built for me, you know what I'm sayin'? I live in Las Vegas, but I feel like the city is calling me back," he commented during a recent conversation with FightHype.com. "To me, that was a soft opening. When I fight, that's going to be the hard, grand opening. All them boys gonna be back on the card with me again and we're going to kick the doors open and knock the hinges off of that bitch. We're gonna sell out to the top of the capacity it can get. We're going to have everybody in there that's supposed to be in there. Brooklyn gonna come out the Brooklyn way," Judah added. "When Zab Judah and Danny Garcia go at it, it's going to be Brooklyn versus Philly. The same thing as the Giants and the Philadelphia Eagles. That's a big rivalry in football. We're going to have Danny Garcia and Zab Judah the big rivalry in boxing."


@superjudah @shosports you ready champ?

— Oscar De La Hoya (@OscarDeLaHoya) October 23, 2012
[ Follow Ben Thompson on Twitter @fighthype ]