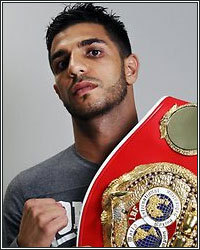 According to his attorney, IBF featherweight champion Billy Dib will not be defending his title on the December 1 undercard of Miguel Cotto vs. Austin Trout. Dib's attorney, Adam Houda, confirmed the news via his Twitter page. "Media Release: My client @TheRealBillyDib will not be fighting Dec 1 NY. It appears Billy has been caught in the cross-fire of boxing politics," Houda would write. Dib would retweet the message shortly afterwards to his own followers.

Several days ago, his promoter, Curtis "50 Cent" Jackson, announced that Dib would indeed be defending his title against undefeated challenger Jayson Velez on the televised portion of the Showtime card. That announcement, however, was a bit premature, as Showtime was allegedly not keen on the idea of televising Dib, who had a less-than-stellar showing in a previously televised unanimous decision loss to then-champion Steve Luevano in 2008. Judging from his attorney's comments, however, they are of the opinion that "boxing politics" may have played a role in Showtime's decision to turn down the fight. More specifically, there are some who believe that Jackson may have rubbed some people the wrong way and may have a difficult time doing business in the sport of boxing.

Time will tell if that theory holds true, but for now, it looks like Jackson will have to continue to work hard to get the entertaining Dib a new fight date.
[ Follow Ben Thompson on Twitter @fighthype ]