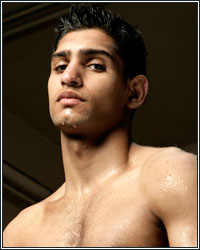 It's been a rough year for Amir Khan, he has suffered two defeats in a row the latter against Danny Garcia the second time he has been devastatingly knocked out in his short career. Following the defeat, rumblings in the boxing world were suggesting the former Olympic silver medalist was on the verge of dumping hall of fame trainer Freddie Roach.

Those rumours came to life shortly afterwards when it was announced he would be teaming up Virgil Hunter, 2011 trainer of the year and longtime trainer, mentor and father figure to P4P #3 Andre Ward. Hunter, the former probation officer will be Khan's fourth trainer in his seven year pro career.

Lets have a look at how his relationships with previous trainers broke down. Following months of speculation suggesting Khan is thinking of hiring a "top" American trainer, he finally parts company with Oliver Harrison in unceremonious circumstances. Before he fights Michael Gomez, Frank Warren matchmaker Dean Powell comes in temporarily. Following his shaky performance in which unheralded Gomez dropped and hurt him on numerous occasions, he blasts Harrison for giving Gomez tactical tips.

Next on the mound, Jorge Rubio. The Cuban was a celebrated amateur trainer and had great success developing Cuban amateurs. Roach, Mcgirt and the Mayweathers were all in the running but Rubio was chosen, Khan telling the Guardian, 'I felt comfortable working with him and his training methods will give me a new dimension'. Prescott - Khan was made and we all know what happened there. Rubio was dumped the Friday after the fight and Roach was hired.

The Roach approach went well for a few years, while he was performing well sharing him with Pacquiao and others wasn't a problem. In fact he credits his resurgence in confidence down to the fact he had handled sparring the Filipino dynamo shortly after arriving there. But after his poor showing against Lamont Peterson, topped off by the mauling he received at the hands of Danny Garcia he decided to divert some of the attention away from himself again. Pulling the trigger on the celebrated trainer in the months following the fight.

Khans offensive ability is exceptional, his one dimensional defence is something he has been trying to rectify since Willie Lomand put him in the seat of his pants early in his career. I don't think punch resistance is his problem, it is the decisions he makes after he takes them which is his undoing. Hopefully now he has the man in his corner to properly teach him those methods.

Virgil Hunter or "Godfather" as Ward calls him is quite a character. He is a real student of the game and loves his analogies. In an interview with skysports he describes Khan as a leopard, "I compare him to a young leopard, he has all the instincts of a leopard, all the weaponry and attributes of a leopard and he thinks just because he is a leopard he can stand there and eat you. Fighters just aren't going to let you do anything you want to do. You have to learn the terrain, you have to practice your stealthiness, you have to know when to show your head and when not to show your head, know when to make a move and when not to make a move and when you bite you've got to know where to bite and how hard to bite."

If there is a man out there capable of drilling these defensive qualities into Khan it's Hunter, but Khan has to be willing to go completely with him 100%. Virgil doesn't like smooth training camps, he and Ward bump heads quite a lot during camp because he gets pushed so hard. Hunter tells HBO, "there is always friction in training, I don't care if you like me, I have a responsibility to bring you through this fight." He spoke about what the atmosphere is like in camp before he fought Chad Dawson and In his opinion the essence of training is to have no routine feel routine, "it's not going smooth, and I like it that way, I would be worried if it was going smooth because a smooth training camp doesn't mean a smooth fight."

It seems as if Khan is in the right hands, but this is his final chance. I believe if he dedicates himself to the sport in the same manner as a Ward, or a Mayweather he can most definitely get back near the top of the tree. Virgil believes he can improve him, but the telling moment will be when he is caught with that next big shot. Will he make the right choices? I hope so, but as Iron Mike Tyson so famously said, "everybody has a plan until they get hit."