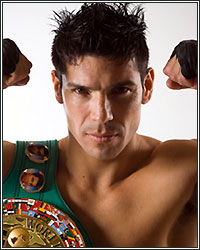 Yesterday afternoon, reigning middleweight champion Sergio "Maravilla" Martinez underwent surgery to repair his right knee and ankle, both which were injured in his last fight against then WBC Middleweight Champion Julio Cesar Chavez Jr. Martinez had the operation done in Spain, where he has been living since relocating from his native Argentina earlier in his career. The operation was done by highly regarded doctor Villamor Perez, the personal physician for the King of Spain, Juan Carlos I.

"I am very, very happy with how the operation went," said Martinez. "I will be rehabbing for two or so weeks and then I will be back in the gym, and begin preparations for my next title defense, which will take place next year in my native Argentina. This will be my first fight there in many years and I am really looking forward to defending my title in front of all of my great fans in Argentina."

"We are very pleased that Sergio's surgery today was successful with no complications. He'll be back on his feet in a few weeks and able to train shortly thereafter," said promoter Lou DiBella. "He'll have no problem getting ready for an April fight and we hope to help him realize his dream of defending the WBC Middleweight Championship in his homeland of Argentina."

"Now that the surgery is complete, I have no doubt that Sergio "Maravilla" Martinez will be back better than ever and continue to show everyone that he is one of, if not the best pound-for-pound fighter in the world. We want to thank everyone who has sent their thoughts and prayers to Sergio for a successful and speedy recovery," said longtime advisor Sampson Lewkowicz.

"It was an absolutely perfect operation," said Martinez' business manager Miguel Angel de Pablos. "Doctor Villamor Perez did a magnificent job and we couldn't have been any happier with the outcome. Sergio will immediately begin working with our own personal doctor Raquel Bordons on his rehab, and will be back in the gym very soon."