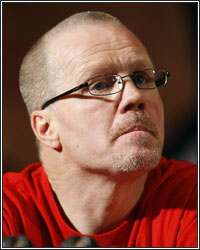 "We have a tough fight ahead of us style-wise and we know Marquez is a great counter-puncher, but we're working on how to beat that counter-punching style. Manny is looking great in training. I like what I see. He's right where I want him to be right now. His sparring has been a lot better than I've seen in a long time and he's very, very focused for this fight. I think it's going to be the best fight yet," stated Hall of Fame trainer Freddie Roach, who gave an update on Manny Pacquiao's training during a conference call to promote the upcoming December 8 shodown with Juan Manuel Marquez.

"The thing is, Marquez lulled us into fighting at his pace last time, and if we fight at a slow pace, it's going to help the counter-puncher, so we're going to fight at a much higher pace this time like we did in the first fight in the early rounds," Roach explained as he stressed the importance for Pacquiao to be much more aggressive with Marquez in this fourth encounter. "That's when we've had the most success. All the tapes we've been watching, we have success when we're aggressive and using that speed, and we're going to use a lot of that."

In fact, Roach is of the opinion that the new muscular physique of Marquez gives Pacquiao more of an opportunity to utilize his advantage in speed. "I don't think muscle makes you have a better chin. The thing is, he put a lot of muscle on and I think he's a little bit slower than he used to be and we're going to take advantage of that," Roach added.
[ Follow Ben Thompson on Twitter @fighthype ]