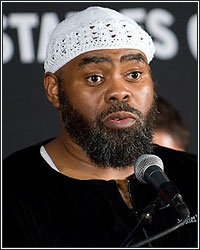 "Marquez actually did something that you chew younger fighters out for and that's look for a shot," stated world-class trainer Naazim Richardson, who shared his thoughts on the consensus 2012 Knockout of the Year, Juan Manuel Marquez's KO of Manny Pacquiao last moth. "You never want a young fighter to look for a shot, and I think from the moment he dropped Pacquiao, the rest of the fight, he looked for that shot and he got it," Richardson explained.

Marquez stunned the world when he landed a counter right hand at the end of the 6th round which knocked the Filipino icon unconscious for several minutes. "But comparing a young fighter looking for a shot to Marquez is like me being on a crime scene looking for a clue and Sherlock Holmes being on a crime scene looking for a clue. So yeah, you bite a young boy's head off if they are doing that, but if you're training Juan Manuel Marquez, you don't tell him shit (laughing)," he elaborated.

Richardson felt the confidence to throw that shot was solely based on the punch that had put Pacquiao down in a prior round. "Had he not landed that shot in the 2nd or 3rd round that floored Pacquiao, he probably wouldn't have looked for that shot again, but that gave him the confidence to keep looking for that one particular shot and he sat down on it a little more that second time. He hurt Pacquiao real bad the first time with that shot, so he knew exactly how to throw it to end the fight and that's what he did," he added.
[ Follow Percy Crawford on Twitter @MrFighthype ]