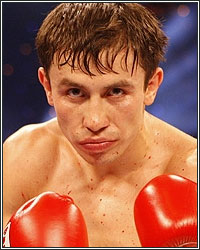 As far as combat sports fans are concerned, this was the first true weekend of 2013. Two major boxing events with legitimate supremency on the line and a largely important clash between two of the UFC's top middleweights was also on tap. And being the fight fan I am, I've got all the results for you right here.

Garcia TD8 Salido - Salido was always a fan favorite. A fun, exciting Mexican brawler. Most fight fans were thrilled as he pulled off a shocking upset over Juan Manuel Lopez, Twice in a row nevertheless to capture the WBO crown. But this young rising star Miguel Angel "Mikey" Garcia put rain on his parade in a dominant knockdown filled disaster that skyrocketed his career as a top prospect from California to a viable undistputed world champion.

A headbutt saw the fight stopped in round eight. It landed awkwardly as Salido was running in and broke Garcia's nose. Certainly the judges gave all but one round to Garcia, in a clear verdict.

Golovkin TKO8 Rosado - The avoided Middleweight known as "GGG" Gennady Golovkin has flattened another opponent. This one the always game contender Gabriel Rosado. Rosado was never down, and did fight back but nothing enough to impose the slightest daunting inside the WBA/IBO beltholder. After a warriors beating and a massive cut over his eye his trainer Billy Briscoe properly pulled him out.

Burgos D12 Martinez - I am eluded in how this verdict got drawn up by the judges. And since I really don't want to frustrate myself I'll just say this much, Santa Claus has come late for "Rocky" Martinez. Juan Carlos Burgos sharp outside work and puncturing body shots earned him a clear cut 117-111 scorecard by myself. And the majority of other observers.

Undercard results included a hard fought victory for popular Long Islander Irish American Seanie Monaghan over Steve Cantrell. A stunning 10th round knockout by proud Italian-American fringe contender Anthony Ferrante over Kazak prospect Isa Akberbayev. Plus a big KO win in 21 seconds by olympian Felix Verdejo.

Kovalev TKO3 Campillo - In a counteracting Mohegan Sun bill Sergey Kovalev proved why Main Events signed him in a stunning rush of slick Spaniyard Gabriel Campillo that lead to an easy, brutal finish. For once after controversial decision defeats to Tavoris Cloud, Beibut Shumenov and Karo Murat whils traveling from home Campillo has suffered a real loss on his resume.

Stevens KO1 Ayala - Stevens came out and did what he had to do. Get the fans interested in his comeback. And a quick thrashing of the usually durable Puerto Rican Elvin Ayala after a three year hiatus surely does the trick.

Belfort TKO2 Bisping - This Brazilian beast never goes away. It's been a long while since he held the UFC title but that doesn't stop him from trying. The fight was quick. Belfort came out the patted leather for a couple minutes in a close, uneventful first round where in the end he almost finished Bisping with a large flurry. In the next round you could tell he was hellbent on grabbing the win where at 1:27 into the round he erupted a barrage of shots and grinded down on Bisping. Prompting a stoppage.

Gonzaga SUB2 Rothwell - Being admittedly a more casual MMA fan my passion for boxing overwhelms me often when watching MMA. Maybe I do not appreciate the wrestling or Jiu-Jitsu side enough. Bottom line for this one is though a tough, muscular black belt in Gonzaga got his third submission in a row. This time over Ben Rothwell in round 2. Big fights await.

Nurmagomedov TKO1 Tavares - Tavares is popular in his homeland of Brazil. Crowd was chanting the entire time as with the other fighters. The up and coming Russian didn't get the memo when he caught and drilled down Tavares in his biggest victory yet.

Other results: Dolloway SD3 Sarafian, Markes UD3 Craig, Barbosa SUB1 Martin (Punches), Lentz UD3 Nunes.