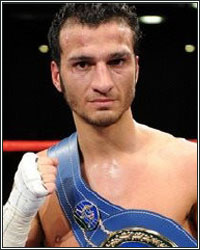 Belgian born Italian Super Featherweight Ermano "ll'Dottere" Fegatilli (26-5-0 5 KO's) is highly enthusiastic about his upcoming 8-round rematch against Karim Chakim (25-8-0 11 KO's) on the big March 29th "Gent's Boksgala: Round XI" event set for the Topsporthal Vaanderen in Ghent, Belgium.

Fegatilli is continuing on the comeback trail after having his EBU title snatched from him in August of last year against Devis Boschiero in a controversial 12-round throwdown in Italy. He has been recoving from back pains since, taking a break from training. Ermano notes "I feel very good after taking a break after a couple of years of hard training".

"I feel highly motivated" he also states "I fought Karim twice and he is a good fighter with a good heart". With the fight being televised on national station EXQUI and taking place in an arena with over 4,000 capacity in Ghent he is humbled to be capable of showing his hard work and dedication in front of his local fans paying off.

Being ranked in the top 15 by both the WBC and IBF Fegatilli is looking for big opportunities that his newly signed promoter Claude Van Heede and manager Mirco Giuliani can guide him to in 2013 but first he must settle the score in this trilogy with Chakim and working with two of the best trainers in all of Belgium in Albert Syben and Sandro Menconi he may one day achieve his ultimate goal, capturing a world title in the name of Belgium.

Tickets are on sale now at Gentsboksgala.com for Gentsboksgala XI. Which features the top names in Belgian boxing including Fegatilli, "Sugar" Jackson, Sasha Yengoyan, and Delfain Persoon.