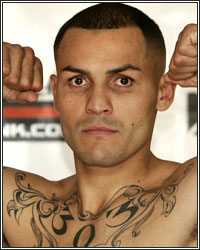 After just a short twenty minutes of relentless exchanging, top American Jr. Welterweights Brandon "Bam Bam" Rios (31-0-1 23 KOs) and "Mile High" Mike Alvarado (33-1-0 23 KOs) were left with more question than answers. At the time of the stoppage, as both men were in the pocket trading hooks to the body and head, a slashing right hand to the head by Rios left Alvarado evading to the ropes as referee Pat Russell haulted the mild beating that was being put on Alvarado. Afterwards, many fans and observers were raving about the idea of a rematch, and finally, it was enthusiastically announced this week by Top Rank Boxing that it has been set for March 30th at the popular Mandalay Bay Resort and Casino in Las Vegas, Nevada, televised live on HBO's Boxing After Dark. It is expected to be a doubleheader potentially including a prospect sharpened collision between Aussie Wale Omotoso and Jessie Vargas.

Both men compiled a glossy resume against semi-light opposition prior to their bout. Rios, who first became a champion after a smashing beatdown of the powerful Miguel Acosta, moved to 140 pounds after his Lightweight title reign came to a skreetching hault due to two weight misses. He was originally stripped of his title the first time he missed weight against John Murray, though he dominated the bout. In the following bout against Richard Abril, once again, he missed weight, but again, he got the victory, although this time, Abril quite frankly dominated the fight and should have been awarded the decision.

Alvarado is an all-action contender holding decent victories over Mauricio Herrera, Breidis Prescott, Ray Nahr, Carlos Molina and Gabriel Martinez. A win over Rios, which he came close to back in October, would blast him into range of a world title shot. His stocky stature and heavy leverage right hand contributes to his bullish attributes in the squared circle. Never miss him fight.

Both men are physically primed and ready for another Fight of the Year canidate. Expect to see these two energetic militants put the crowd on their feet for twelve dramatic rounds. Which one of these punishers will get the win? If you can be there, be sure to grab your tickets, which go on sale today, for this high stakes clash. If not, you had better tune in live to HBO's Boxing After Dark for this well anticipated bill.

Follow Corey Quincy on Twitter at @Quincyboxingfan for updates.