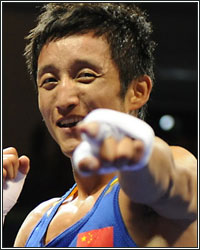 Boxing in China has been legalized since 1986, but the first generation of amateur boxers from the Land of the Rising Sun are just now finally making a splash on the pro scene. After Zou Shiming captured a Bronze Medal in the 2004 and a Gold in both the 2008 and 2012 Olympics, he was undoubtably recognized as the best rising star in the developing Chinese boxing scene. Furthermore, Xiong Zhao Zhong managed to capture the nations first professional world title in an inspiring victory months ago.

Zou is a product of a respectable culture of young warriors. He is poised with dedication and spirit that is expected to fledge his career forward on an international level. The former three-time Olympic medalist and amateur champion signing with a widely developed American promoter, Top Rank Boxing, just might allow him to take that next leap on his rise to glory. He will be fighting his long-awaited professional debut in the featured attraction of a stacked card in Macao this April 6th. Just days ago, Shiming touched down in the United States to train at the legendary Wild Card gym with Hall of Fame trainer Freddie Roach. Media coverage was rapid for the new Top Rank signee. At a peaking age of 31, however, his career needs to keep at a tight pace to avoid slipping past his peak, and Top Rank Boxing promises to do just such.

Local fans are also thrilled about their first world champion, Xiong Zhao Zhong (20-4-1 11 KO's). While he tends to fight a bit uncoordinated and off balance with some of his wild, looping shots, the young Minimumweight fighter has a warrior's heart and sharp hand speed, which in November 2012 earned him the vacated WBC strap against formidable contender Javier Martinez Resendiz. If his dedication continues to surpass his flaws, he can be a respectable fighter to look out for passing through his physical peak at age 30, but much like Zou, he needs to keep this on the move.

With Japan, Thailand, and the Phillipines producing some of boxing's best fighters in the lighter weight divisions, having a massive country like China joining the show will be remarkable. The era of Zou, or perhaps the tough Zhong, is here. Either way, with Chinese amateurs blossoming through the Olympics, this fighting country is coming into the Sweet Science in a massive way.

Follow Fighthype for much more.