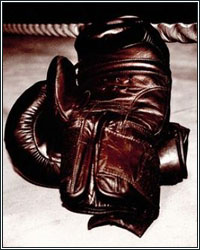 Boxing is not for the faint of heart. That sense doesn't only get implied to the fighters. In a recent statement to FightHype.com, Boxncar Promotion's Chad Boussard implied just that. A hard-working businessman out of Louisiana, Boussard knows the trade from every angle. Currently as a top Louisiana based promoter of local talent, such as Mason Menard and Travis Scott, he was a harshly managed former professional boxer from 1989 to 2007 and once at top Welterweight contention.

As a promoter, he clearly states his goal. "The biggest adversity in being a promoter is undoing what a lot of the big promoters are doing; trying to allow people to know I am not that guy. I am honest and work hard. I always try to place the fighter in higher regards. I was also a professional fighter, and I know what having a bad manager/promoter was like," Broussard explains. "God placed a dream in my heart, to build a boxing program here in Louisiana, what I always wanted, but no one would do for me."

Many small-time promoters share that daunting task. Unfortunately, with television and media coverage setting their sights on the much more widely recognized Top Rank Boxing and Golden Boy Promotions fight bills, along with their personal fiasco of senseless negotiations to pit super-fights between Floyd Mayweather and Manny Pacquiao or perhaps Nonito Donaire and Abner Mares, this task is not easy. Boxing fans are more mentally sustained in the controversy, and not to mention conspiracy, that the Sweet Science has to offer. Us writers have heard that message loud and clear.

Admittedly, things are far from comfortable financially in these local bouts as well. After commission, insurance, ring production, and event taxes, it is nearly impossible to procede with much else. Without proper coverage, the revenue is rarely there for these passionite promotional groups to have the type of production that larger groups may take for granted. They may not dominate the thick industry that is boxing, but you must give your respect to the solid events whipped together for local entertainment on such a tight budget nonetheless.

Be sure to get your tickets at www.Boxncarpromotions.com for his exciting upcoming event, featuring the biggest names in Louisiana boxing. It is being titled "Knockouts and Payouts". In the main event, UBO beltholder Mason Menard defends against a to-be-determined opponent, plus much more from the Evengeline Casino!