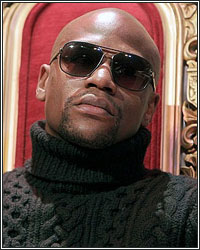 "Me & my trainer (my dad) back working together getting ready for May 4th," stated undfeated pound-for-pound champion Floyd Mayweather, who posted a picture on his official Twitter account revealing that he's been working with his father, Floyd Mayweather Sr., ahead of his anticipated return to the ring on May 4 at the MGM Grand Garden Arena in Las Vegas, Nevada. Although an opponent has yet to be determined, Mayweather is expected to make announcement on who he will be fighting in the near future. Thus far, interim WBC welterweight titleist Robert Guerrero and IBF welterweight champion Devon Alexander are the frontrunners to land the coveted assignment.

While the world waits for Mayweather to make an official announcement, the best boxer on the planet is already hard at work preparing for his return to the ring. Mayweather hasn't fought since last May, when he scored a unanimous decision victory over game challenger and former jr. middeweight champion Miguel Cotto. Late last year, Mayweather hinted that he may be working with his father again, telliing FightHype.com in an exclusive interview, "At this particular time, I'm thinking about working back with my father." According to Mayweather, his long-time trainer and uncle, Roger Mayweather, has been suffering the effects from diabetes, which may prevent him from continuing his duties as the main man in the corner.

"He's not eating well; he's not healthy. I want him to get healthy and eat better so he can have a sharp mind, because his mind is not as sharp as it once was," Mayweather explained during an interview back in December. "Roger, you know, he's very, very sick at this particular time, so I'm thinking about working back with my father. We really don't know what the future holds for Floyd Mayweather as far as who's gonna be the trainer, but I'm leaning towards my father at this particular time."
[ Follow Ben Thompson on Twitter @fighthype ]