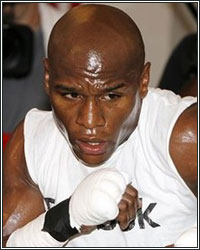 Sources close to the information have informed us that HBO is out and Showtime is in as the new home for undefeated pound-for-pound champion Floyd Mayweather, who will be defending his WBC welterweight title against an opponent yet to be named (UPDATE: Mayweather has revealed that interim champ Robert Guerrero is indeed the opponent) on May 4 at the MGM Grand Garden Arena in Las Vegas, Nevada. For months now, fans and media alike have been wondering who Mayweather's opponent would be. Though many assume Guerrero will indeed land the coveted assignment, what they didn't know was that Mayweather would be fighting on a new network after over a decade of fighting exclusively on HBO.

Mayweather is said to have signed a record-breaking six-fight deal with Showtime PPV/CBS. The news will no doubt send shockwaves throughout the industry. The biggest draw in the sport, Mayweather has fought exclusively for HBO during his pay-per-view career, achieving record-breaking box office success. The move signals a serious shift in power, as Showtime will now reap the benefits of having the biggest attraction in boxing fighting on their network.

UPDATE:

The following press release has been issued by Mayweather Promotions and confirms the FightHype.com report...

FLOYD "MONEY" MAYWEATHER INKS RECORD-BREAKING DEAL WITH SHOWTIME®/CBS

LAS VEGAS (Feb. 19, 2013). Undefeated eight-time world champion Floyd "Money" Mayweather, boxing's pound-for-pound king and the highest paid athlete in the world (Forbes, 2012), has entered into a groundbreaking pay-per-view deal with Showtime Networks Inc. and its parent company, CBS Corporation. Under the new deal, SHOWTIME PPV® will collaborate with CBS Corporation to comprehensively promote Mayweather's events on the CBS Television Network and via the corporation's expansive media platforms.

The deal-a unique revenue-sharing arrangement between SHOWTIME PPV and Mayweather-will enable him to fight up to six times over a period of 30 months, with the first mega-event taking place on May 4, 2013, when Mayweather will fight Robert "The Ghost" Guerrero. More details of this upcoming event will be announced shortly.

Mayweather's new deal is by far the biggest in the sport of boxing (specific financial details are contractually confidential). Mayweather is the PPV king and averages over 1 million PPV buys per event, which is the highest PPV buy average of any boxer in history. At this record-setting PPV performance level, if all six fights contemplated by this deal occur, it will be the richest individual athlete deal in all of sports.
[ Follow Ben Thompson on Twitter @fighthype ]