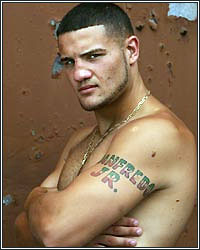 CES Promotions recently alerted FightHype.com that fan favorite Joey Spina (26-3-2 18 KO's) has pulled out of a locally acclaimed grudge match with "The Pride of Providence", middleweight contender Peter Manfredo Jr. (38-7-0 20 KO's), sighting a currently undisclosed injury. Manfredo, who will still headline the stacked bill, defeated Spina in a three-round war back in 2006, leaving intrigue in a rematch ever since. Manfredo is coming off a win to spoiler Rayco Saunders in November. This was his first fight in a year since a momentum burning defeat to Mexican banger Julio Cesar Chavez Jr. In this prolonged comeback, he hopes to grasp a final run at the top of his division before an inevitable retirement.

Spina, a 12-year veteran with a twisty career and gutsy style, is also hoping to go out with a bang. Retaining signature victories to Jesse Brinkley and Antwun Echols doesn't necessarily allow his career to suffice, as currently he is coming of consecutive decision losses to Vladine Biose and Jerson Ravelo. It is clear he is in need of a nice win himself, against Manfredo or otherwise.

Manfredo Jr.'s opponent is now in the dark, but he will still headline on March 15th at the Twin River Event Center in Lincoln, Rhode Island. CES hopes to reschedule a bout with Spina eventually. An extravagant undercard featuring a solid scrap between Joe Gardiner and Raynaldo Rodriguez also takes center stage. Get more information and tickets now at www.CESBoxing.com. Follow FigthHype.com for more updates!

Follow Corey Quincy on twitter at Quincyboxingfan.