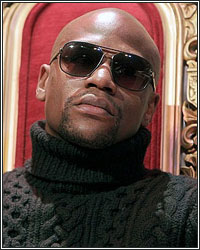 It's Monday. Welcome back for another edition of Observe and Fight, The Boxing Observer's compilation of observations and random thoughts from the week that was in boxing. Get caught up on some of the most recent events you may have missed out on, including the Mayweather vs. Guerrero pay-per-view card shaping up to be great, 50 Cent's promotional debut, Canelo vs. Trout getting its own main event date, the possibility of a great upcoming slate of fights, and much more. Without further ado, check out the latest observations from The Boxing Observer, David Kassel.



After a tumultuous week for the May 4th Floyd Mayweather vs. Robert Guerrero undercard, things are looking on the up and up. Early in the week, Saul Alvarez announced he would not be facing Austin Trout on the undercard May 4th because Floyd Mayweather would not agree to fight him in September. Now, Canelo vs. Trout is moving to April 20th in San Antonio (on Showtime, not on PPV), and the main event of what was supposed to be the April 20th card on Showtime, Abner Mares vs. Daniel Ponce De Leon, is moving to the co-feature to Mayweather vs. Guerrero. While I believe Canelo vs. Trout deserves to be its own main event, and it will be a great fight, Mares vs. Ponce brings more action than anyone could have asked for. Throw in the fact that Richard Schaefer is trying to place Leo Santa Cruz on the May 4th card, and we are looking at non-stop, don't go to the bathroom action. It doesn't even matter who Santa Cruz fights, to be honest. I would pay to watch that guy throw punches against a heavy bag. The latest news came late Friday evening that the opening bout on the PPV card could be a rematch between all-action fighters Alfredo Angulo and Gabriel Rosado. Call me crazy, but this is by far the best PPV fight card we might see for years to come. Even if J'Leon Love gets pushed to the non-televised undercard (or at least a free preview bout), I don't think he belongs on the same PPV card with these other fights...at least not yet. One day, he will. May 4th is just not the day. Putting Love on the PPV card in favor of any of these bouts would be bad for business, and Floyd Mayweather is all about business. I thought Canelo vs. Trout exiting the undercard was a major mistake. It turns out, it was only the beginning of a masterful week of matchmaking by Richard Schaefer and Floyd Mayweather. This fight card, if it all comes together, will be worth every penny. Mayweather vs. Guerrero could be the most boring fight of the night, and that should tell fight fans something about the quality of the action they are paying for.


Golden Boy and Mayweather Promotions might want to think about having a Mayweather vs. Guerrero double-header. I'm talking about Mayweather Jr. vs. Guerrero in the main event, and Mayweather Sr. and Ruben Guerrero (Robert's father) in the co-feature. Has anyone else noticed, now that the fight has been officially announced, Team Guerrero is back to its old yappety-yap ways? Guerrero's father is now taking shots at Mayweather Sr. and Mayweather Sr. has fired back (if you aren't sure what I am referring to, visit the past week of stories on FightHype). I'm telling everyone now, no matter how hard Showtime cameras try to make Guerrero out to be the hero in this story by using his wife's battle with cancer as the good-guy storyline, fans are going to grow tired of Guerrero's mouth come fight night, much like they did with Victor Ortiz. For as much talking as Guerrero does (and I have to admit, he has backed it up in the ring thus far), he is going into another world against Mayweather. He has NEVER faced this caliber of opponent, and I just hope he isn't writing checks with his mouth that his fists can't cash.


I believe Canelo vs. Trout moving to its own date is a good thing for boxing. I know most fans feel that Canelo had no business trying to set terms with Floyd Mayweather, but the fact of the matter is that Canelo is not ready for Mayweather, and regardless of whether or not he beats Trout (and that's a BIG if; I think it's a 50/50 fight), Canelo would get picked apart by Mayweather. I am not so sure that even if Canelo beats Trout, he would be recovered and ready in enough time to face Mayweather in September. He would have to be back in the gym training just 2-3 weeks after the Trout fight. I'm not so sure that's enough time to rest. Canelo might want to think about not looking ahead because Trout is very dangerous. Whoever wins the Canelo vs. Trout fight will most certainly be a front-runner to face Mayweather, but each man may want to consider taking another fight in preparation because Mayweather is on another level entirely. Canelo and Trout should want to try and stage a fight with Mayweather in 2014. By then, fight fans may truly see a challenge to Floyd's crown. I'm not so sure either guy will be competitive in September.


A big ouch for 50 Cent in his promotional debut, but it might not be as bad as it seems. I have to give credit where credit is due. 50 Cent delivered Friday night by putting on an entertaining fight card. The night started with two first round knockouts, and both were devastating. Then, we had a nice 4-round filler bout, followed by a main event that was more than anyone expected. I, for one, was very critical about how this fight was promoted, or was not promoted I should say. This fight card had zero hype considering a world title was on the line in the main event. On top of that, Billy Dib was considered by many as nothing more than a paper champion. Most people still had a bad taste in their mouths regarding Dib because of his lackluster 2008 HBO debut against Steven Luevano (much like people still give Devon Alexander a hard time for not continuing against Timothy Bradley, even though Alexander has gone on to look very strong as a welterweight). Dib has completely changed his style, and it was on full display Friday night. Dib deservedly lost his belt to the untested Evgeny Gradovich in a split decision (which was not that close on the scorecards), but maybe more importantly for Dib and 50 Cent, it was an entertaining, fan-friendly fight. I had zero expectations that this fight would be anything special, but Dib has completely recreated his image (maybe not for the betterment of future wins and losses), but now has fight fans wanting to see more of him because he is entertaining. If 50 Cent's fighter was going to lose the main event in his promotional debut, the fight better have been special. That's exactly what it was, and it might have saved 50 Cent's promotional career, at least for now. I know it's not easy, but 50 needs to try and put on a fight cards featuring his 3 main horses: Dib, Andre Dirrell, and Yuriorkis Gamboa. Matched up correctly, it's a fight card that could drum up some serious interest. By the way, I almost forgot, congratulations to Evgeny Gradovich for winning a world title in just his 16th professional bout!


Julio Cesar Chavez Jr. may now hold the Guinness Book of World Records title for buying the most expensive weed EVER! Let's be very clear, marijuana is not a performance enhancing drug. Chavez Jr. was fined $900,000 by the Nevada State Athletic Commission for testing positive for marijuana after his fight with Sergio Martinez. He was also suspended for 9 months (which really makes no difference because he can return in mid-June). I know marijuana is illegal, and I am not an advocate for doing drugs, but I'm willing to bet Chavez Jr. didn't know his dime bag, which he probably paid less than $100 for, would end up costing him almost $1 million. I wonder if Keith Kizer of the NSAC actually knows Chavez's dealer and this was all a setup? Either way, that was one expensive-ass dime bag.


Richar Abril is more than just a one trick pony. I'll be honest, I thought he was matched very well against Brandon Rios, and Abril was tailor-made for that fight. I thought Bogere, who is much quicker than Rios, would cause Abril more issues (which he did), but Abril adapted very well. Bogere had a difficult time with the size disadvantage, and Abril worked this fight to perfection. Abril also surprised with his quickness (which he didn't have to display all that much against Rios). Abril is going to be a tough out for anyone at lightweight, including Adrien Broner. In the end, Broner would beat Abril, but at least Broner has another legitimate option at lightweight if the Ricky Burns fight doesn't happen.


Gary Russell Jr. is the 2nd best featherweight in the world. I know he hasn't truly been tested by any legitimate contenders, but Russell Jr. will be a world champion before the end of 2013. He has all the tools to be the best in the division, with the exception of height, but he makes up for it in speed and power. Russell Jr. injured his hand in the middle of the fight and was able to dominate one handed. The problem for Russell Jr. is that nobody wants to face him. Calling out Juan Manuel Lopez will not make a competitive fight because I firmly believe Russell Jr. would dominate the fight. The only featherweight better than Russell Jr. right now, in my opinion, is Mikey Garcia (but we won't see that fight anytime soon because of the Golden Boy vs. Top Rank feud). Since Russell Jr.'s hand is injured, he'll need time to recover. I would love to see him face the winner of the May 4th clash between Daniel Ponce De Leon and Abner Mares. Mares vs. Russell Jr. would be a hell of a fight.


I am cautiously optimistic for the next few months in boxing. I say "cautiously optimistic" because the boxing schedule seems to good to be true. This weekend we have Hopkins vs. Cloud, with a solid co-feature of Thurman vs. Zaveck. The following weekend is the return of Timothy Bradley, and a Ricky Burns vs. Miguel Vasquez match-up. Then, at the end of March is Rios vs. Alvarado II and the return of Gennady Golovkin. So far, April brings us Donaire vs. Rigondeaux, Canelo vs. Trout, Garcia vs. Judah, and the returns of Sergio Martinez and Amir Khan. May brings us Mayweather vs. Guerrero, Alexander vs. Brook (with Peterson vs. Matthysse as the likely co-feature), and Froch vs. Kessler II. In June, we're looking at the return of Adrien Broner, possibly against Ricky Burns. We know more fights will be added to the schedule, but these are all great fights that should keep fight fans on their couches on Saturday nights for the next few months. Again, I say "cautiously optimistic" because, lately, a lot of fights have fallen through. If 75% of these fights go on as scheduled, it's going to be a memorable next 3-4 months in boxing.


Nice work by Sam Soliman for tricking fans into believing he was a feel good story for beating Felix Sturm. Turns out, Soliman was on the juice. And athletes wonder why sports fans are all so skeptical nowadays. I am a firm believer that the government should not get involved in sports, but the more and more athletes cheat, the more it causes me to rethink m position. It's just disgraceful.


I've got news for Brandon Rios. You CANNOT beat Adrien Broner! Rios and Broner had a bit of a war of words this week in which Rios called out Broner. A Rios vs. Broner bout would look an awful lot like Mayweather vs. Gatti. Anyone remember that fight? It was not pretty. In case you are wondering, Broner would play Mayweather and Rios would play the part of Gatti.


Andre Berto is doing the right thing by parting ways with trainer Tony Morgan, but he is moving his career in the wrong direction. Berto announced this week he is leaving his trainer after 20 years and two world titles. I do believe it is the right time to part ways, but Berto is making a mistake by moving to California to continue his career. If Berto wants a career revitalization, he needs to look no further than a couple hours away to Tampa, Florida and trainer Dan Birmingham. Birmingham, who most notably trained former champions Winky Wright and Jeff Lacy, is currently training Keith Thurman. Berto has the offensive skill set and speed to be great, but his defense lacks, well, everything. Enter Birmingham, who can help Berto put all these aspects of Berto's game together. If Berto tries to go out to California to train, he will get caught up in the Hollywood lifestyle and will never reach his full potential. It's really a shame because he could be great, even still.


Each week, I feature an email from a fan on Observe and Fight. This week's email comes to us from Dario regarding the future of Argentine fighters...


"I´m a very big fan of your website and live in Argentina, sorry my English. I wanna comment about our fighters, first of all Lucas Matthysse. I want to see him fighting Danny Garcia this year. I think that would be hell of a match, or Broner at 140 lbs, sorry if I say this but that guy is a very good boxer but for me a clown too. My other favorites fighters are Maravilla Martinez and Chino Maidana. Maravilla don't have a easy fight against Murray, I think he should fight again at 154 lbs and fight Canelo or Floyd, what do you think?, and about Maidana what can I say? For me he has balls, and a middleweight punch, he punch hard, like Matthysse, in the fight with Soto he show that, so what do you think would be a good fight for him?"


Thanks for the love from Argentina, Dario! We definitely appreciate the support from all our fans around the world. I think Matthysse vs. Garcia is a great fight, but Golden Boy Promotions is trying to setup a rematch between Garcia and Khan first. It looks like Lucas will be fighting Lamont Peterson on May 18th in Atlantic City. That is also a great fight! I would love to see Matthysse vs. Broner at the end of this year. Martinez is in tough with Martin Murray, but I think he comes away from that fight relatively smoothly. That will setup the rematch with Chavez Jr. in October or November. Sergio coming down to 154 pounds at this point would make for some great fights, but I honestly don't think he can beat Mayweather, and Canelo is in tough against Austin Trout. Miguel Cotto announced this week that he might be interested in facing Martinez. The fight would draw some serious interest and could take place at either 154 or 160 lbs. Maidana is a beast. Plain and simple. He will have a chance to beat anyone he faces on any given night because he has the heart of a lion and fists of steel. He is currently scheduled to face Josesito Lopez on June 8th, and that is a great matchup! Argentine boxing has definitely got some serious players in the sport."

That's all I've got for this week. Email any questions or comments to
dkassel@fighthype.com
and I will answer them throughout the week. Your email may be featured in the next "Observe and Fight." Follow me on Twitter @BoxingObserver, and be sure to "Like" The Boxing Observer on Facebook.
[ Follow David Kassel on Twitter @BoxingObserver ]