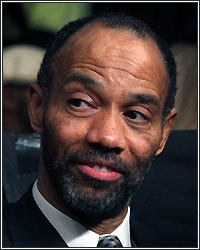 When HBO Sports President Ken Hershman revealed that the network would no longer be doing business with Golden Boy Promotions, many assumed that he was referring to their entire stable of fighters. The question, however, is was he? It's no secret that several Golden Boy fighters -- such as Adrien Broner, Keith Thurman, and Seth Mitchell -- are managed by adviser Al Haymon. It's also no secret that Haymon fighters typically don't sign long-term contracts with promoters. With that being said, has HBO left the door open to continue working with Haymon's fighters provided they're not signed with Golden Boy Promotions?

The short term answer is yes! It should be noted that it was Schaefer, not Haymon, who was contacted by Hershman and informed of HBO's decision. Though Golden Boy has worked closely with Haymon over the years, it's not an exclusive relationship. In fact, heavyweight contender Chris Arreola, a Haymon fighter who is signed with Goossen Tutor Promotions, has a fight coming up April 27 on HBO. Interestingly enough, undefeated super featherweight contender Gary Russell Jr., also managed by Haymon, is currently a promotional free agent, and reportedly, undefeated WBC lightweight champion Adrien Broner, yet another Haymon fighter, will also be a promotional free agent in the near future (although their are conflicting reports regarding the validity of that claim). Could both fighters end up joining a new promotional company, allowing Haymon to still do business with HBO?

Absolutely! As previously reported by FightHype.com, certain high-ranking officials at HBO were no longer interested in giving in to the demands of Richard Schaefer. Remove Schaefer from the picture, however, and perhaps they could still find a way to work with Haymon. The question now is how? Will Haymon look to spread more of his fighters out amongst other promoters, like Lou DiBella, Gary Shaw, and Dan Goossen, or could he possibly do something that some thought he would never do...start his own promotional company? Time will tell, but it's clear that HBO would prefer to break up the current working relationship between Richard Schaefer and Al Haymon.
[ Follow Ben Thompson on Twitter @fighthype ]