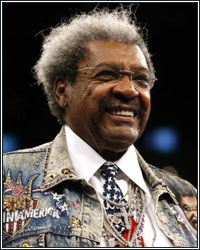 As a fellow boxing observer, I manage to uphold strong insights into the fight game itself. I often discuss various minor regional news on social media. Covering it in full would be impossible, but doing nothing whatsoever would be an abomination, so I bring to you a new edition of "From Pillar To Post", featuring a little of this and a little of that from different angles of the Sweet Science. Enjoy!

Bute-Pascal undercard known, Pier Olivier Cote out with undisclosed illness

The well-anticipated bout between Canadian superstars Lucian Bute and Jean Pascal was announced last week, and FightHype.com has dug up some exclusive undercard information in a conversation with Interbox. First of all, it is now known that Pier-Olivier Cote's still undisclosed illness will keep him sidelined until "at least September or October." He will not participate in the showcasing opportunity that Bute-Pascal is sure to present.

Heavy-handed welterweight Kevin Bizier is set to provide chief support against an opponent to be named. He is coming off a lopsided victory to Nate Campbell. Sebastian Gauthier will also be featured on the bill. Local prospect Mikael Zewski is also being worked on for the earlier undercard. Tickets are on sale soon.

Donaire-Rigondeaux goes solo on HBO

Top Rank publicist Lee Samuels has informed us that no televised undercard will take place for the big WBA/WBO/Ring Magazine title fight between Nonito "Filipino Flash" Donaire and Guillermo Rigondeaux. Proud Irish-American Long Islander Seanie Monaghan and Jersey boy Glen Tapia are locked in for the Toprank.tv viewable undercard. More to be announced soon.

Fallout Fiasco: Dirrell off April 12th Friday Night Fights bill, Card reloaded with Rico Ramos Vs Oscar Gonzalez

Just days after Brandon Gonzalez waived the opportunity to face rising contender Will Rosinsky on April 12th with a torn hamstring, the replacement fight between talented boxer Andre Dirrell and exciting veteran Ossie Duran is cancelled also allegedly due to a Dirrell injury. ESPN has announced a replacement bout at the Little Creek Casino Resort in Shelton, Washington between Feathweights Rico Ramos and Oscar Gonzalez.

A smorgasbord of other engaging scraps were released by ESPN's boxing correspondent Dan Rafael, including a May 3rd bout between exciting veterans Mauricio Herrera and Ji Hoon Kim at the Omega Productions center in Corona, California. Plus a Featherweight bout May 10th between Pinoy sensation Michael Farenas and American Eric Hunter.

Dawson to face Adonis Stevenson in Montreal on June 8th

After lopsidedly avenging his lone blemish last Friday in a 6th round knockout over upset artist Darnell Boone, Adonis Stevenson has announced he will face Light Heavyweight champion "Bad" Chad Dawson on June 8th at the Bell Center in Montreal, Quebec, Canada.

We were aware this bout was on tap as Dawson's bout with Jean Pascal (who faces Lucian Bute) fell through, but just the other day, it was formally announced by GYM Promotions amongst other sources that Stevenson-Dawson was signed, sealed, and delivered.

King's last stand: April 12th Shobox card featuring Angelo Santana and Ryan Coyne

As you are likely aware, two weeks ago, controversial hall-of-fame promoter Don King's last world-class prizefighter went down the drain as Bernard Hopkins outclassed Tavoris Cloud to a 12-round unanimous decision defeat. King has now announced a big April 12 Shobox card featuring two of his final hopefuls in Ryan Coyne and Angelo Santana.

Coyne will face American compatriot and Don King stablemate Marcus Oliveira in a 12-round WBA sanctioned eliminator. The winner will be the mandatory opponent for the Light Heavyweight divisions weakest title prey, Kazakstani Beibut Shumenov.

The extraordinarily talented Cuban Santana will face lesser known Venezuelan Ismael Barroso over 10 rounds. Santana broke out on a November 2012 Shobox card, crushing Juan Garcia in five rounds. It is plausible Santana or Coyne may be the life support for Don King's promotional career.

Guillermo Jones finally set for mandatory bout against Denis Lebedev

On May 17th, Crusierweight adversaries Denis Lebedev of Russia and Guillermo Jones of Panama will finally collide for the WBA title belt in Myakinio, Russia. Jones defended his cherished WBA strap three times prior to an abysmal 19-month hiatus due to many protracting implications, including injuries and promotional difficulties. Now he is back and ready to reclaim what he feels is rightfully his.

Huck set for trilogy with Ola Afolabi on May 11th

Don King recently won the right to promote Marco Huck's mandatory WBO title defense against the always battle ready British boxer Ola Afolabi. It will take place at Tui Arena May 11th in Germany. We are currently unaware of how this bill will shape out, taking stage in Germany under King, who has no German fighters under his banner.

Kamegai-Soto Karass co-headlines Maidana-Lopez

It has become known that on June 8th at the Home Depot Center in Carson, California, welterweight contenders Jesus Soto Karass and Yoshihiro Kamegai will go to battle for ten rounds, with national pride and of course big opportunities on the line. Karass is a high volume pressure fighter who is coming off a big win to Turkish contender Selcuk Aydin. Japan's Kamegai is a highly skilled rising star. This defines a crossroads battle.

Fan favorite Augustus set for return with Bad Chad Broussard's Boxncar promotions by his side

When Emmanuel Augustus bowed down after a competitive 2011 defeat to Vernon Paris, few expected he'd step back into the squared circle. But due to his vast dedication, and one can expect financial needs, he is stepping back into the ring for a new run imminently. Likely on Boxncar, Louisiana's premier promotional group's bill on May 11th. Like with all of his fighters, former professional boxer Chad Broussard hopes to slowly bring him back into contention - and if thing's don't go well, they will be handled properly. But with Emmanuel, it is always a show.

Lo Greco-Porter rounds out Showtime tripleheader with Matthysse-Peterson/Alexander-Brook/Lo Greco-Porter

Italian born Canadian Phil Lo Greco has announced via social media that he will face American Shawn Porter in a battle of the undefeated. It will open up a spectacular Showtime televised tripleheader where, in the main event, Argentine crusher Lucas Matthysse will hope to take the relentlessly coordinated Lamont Peterson out, like he has 86% of his opponents.

Follow Corey on Twitter at Quincyboxingfan for more of his babblings.