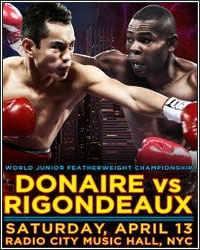 The energy of the crowd, the battle-cry of the ring announcer, to even the bound for blood look in a fighter's eyes. When chewed down to the grain, that is what boxing is about. For a writer, whether he is in the front row rigorously logging every move of the fight or at home charting the lead up on his desktop, the bout starts much earlier than the first bell. For the fighters, the work that Nonito Donaire (31-1-0 20 KO's) and Guillermo Rigondeaux (11-0-0 8 KO's) will put in needs to be enough for one of the toughest battles of either man's provenly extensive careers. It's almost time for a fight - one of the greatest fights in an already spectacular year of boxing.

You have Nonito Donaire, an aggressive Robert Garcia groomed counter puncher with unmatchable adroitness that allows him to one-sidedly demolish any opposition he has ever faced. Whether it be a cautiously partaken chess match or an all-out throwdown, the Filipino-born Californian Donaire managed to defeat every opponent so far since 2001 with the all-around talent it takes to be a world-class professional boxer.

Then there is Guillermo Rigondeaux, a Cuban Southpaw fresh out of a hype-infused amateur career and a rapidly beginning pro reign. He hasn't needed to get acquainted with the ways of professional boxing; after an amateur run consisting of over 300 fights, he doesn't have the time to mess around with journeymen. With a southpaw stance and some of the best counter-punching in the game, he has already got his feet wet with astonishing wins over Rico Ramos, Teon Kennedy, Roberto Marroquin, and Ricardo Cordoba. Donaire is still a giant step up for the WBA Super Bantamweight champion, however.

One cannot decisively make a call inside such a strategically unique fight for both men, so we are consulting the experts - the Fighthype prediction panel, along with some outside guest writer opinions.

Corey Quincy (FightHype): These guys mash up so well stylistically. Rigondeaux is a southpaw with a great left hook and a mind for defensive counterpunching. Donaire is also a known counterpuncher, recognized for his success with Mexican styles. Long story short, Donaire's sheer workrate and southpaw-stunning left-right combo will win him the fight, either by a late stoppage or decision. Donaire by clear decision.

Percy Crawford (FightHype): I like Donaire in a tactical chess match. I look for him to box on the outside and avoid exchanges in close range. He wins by UD using his range and reach. Donaire by decision.

Michele Rosado (FightHype): If it goes the distance, Rigondeaux. If there is a knockout, Donaire. Rigondeaux by decision.

Greg Rowe (FightHype): I'm just not sure Rigondeaux can take Donaire's power. He's been fighting lower level guys. Nonito can match him everywhere. I like his experience. Nonito has the corner advantage as well and I think he and Robert Garcia make the necessary adjustments down the stretch. Donaire by late stoppage or decision.

Billy Ferguson (FightHype UK): I see lots of feinting and periods of inactivity. Rigondeaux makes Donaire look bad at times, but eventually, Nonito lands his left hook in rounds 7-9 for a stoppage. Donaire by TKO late.

David Kassel (FightHype): I believe Rigo will outbox Donaire for 2-3 rounds before Donaire finds some holes in tight defense and Donaire will get to Rigondeaux in the middle rounds en route to a 9th round stoppage victory. Donaire stoppage in round 9.

Ernest Gabion (Boxingscene): Donaire by decision. Both will look to counter the other, but Donaire's power will make Rigondeaux think twice. Donaire by Decision.

Luis Sandoval (Boxingscene): Donaire UD. A true pick 'em fight. I wouldn't be shocked if Rigondeaux won, but he'll have to prove me wrong in this one. I think Rigondeaux has shown vulnerabilities against lesser comp with Ricardo Cordoba & Robert Marroquin. I think we see a close tactical fight with pockets of action in between as Donaire eventually takes over the fight late. Donaire by unanimous decision.

Ryan Bivins (Badlefthook): I just flipped a coin for this one (tough to call). Donaire by decision or mid-fight knockout.

Pavel (Fanshot): I like Donaire by KO/TKO around 7-9, but I see a very competitive and close fight on cards before he takes Rigondeaux out. Donaire by knockout.

Rich Marotta (Freelance TV announcer): I see the fight being competitive only for a short time, 2-3 rounds, and then Donaire blowing him out of there. Donaire by Knockout in 5.

The picks tally in at 10 Donaire (5 KO's) and 1 Rigondeaux (by decision).

It seems while most of the consulted journalists are backing Donaire for a victory, few fail to acknowledge we will have a good, competetive fight on our hands. Early in the bout, expect to see Rigondeaux's rock-hard defense and heavily-aimed counter punching. As the fight goes on, the three-division titlist Donaire is expected to adapt and overcome some affliction, that's already in the books. It just depends on if Rigondeaux sticks to his A game to surpass a seemingly unbeatable foe. Can he stand his ground, even if Donaire is pushing the fight?

Tune in to HBO at 11:00 PM EST/8 PM PST to find out!

The weigh-ins

The weigh ins are an important part of any fight. You can see a fighter's desire, his expectations, and his hopes all take center stage in the biggest pre-fight event. You can see how a man reacts to the stress placed upon him by fans, television, and not to mention the media flustering. Some fighters waddle in just on weight with a "Yeah, lets get this over with" expression on their face. I think you know their mindset. You see a fighter, ripped and ready for war, that tells tales also. Below, view my notes on how Donaire, Rigondeaux, and the other undercard fighters showed up for their respective bouts.

Here are the results from Top Rank Boxing's weigh-in show:

Nonito "The Filipino Flash" Donaire (121.5) vs. Guillermo Rigondeaux (121.5) - Both men, esspecially the athletic Guillermo Rigondeaux, were in excellent shape and ready for one of the biggest fights of their lives. Donaire was the more talkitive, informing the fans we will have a war come Saturday night, while Guillermo stood focused and ready for the title unification matchup.

Seanie Monaghan (176lbs) vs. Rex Stanley (177lbs) - Both men looked well equiped for war while Monaghan clearly received the stronger reception as a Long Islander.

Mikael Zewski (148.5lbs) vs. Daniel Sostre (147lvs) - Against one of his toughest opponents to date once again on uncharted soil recent TR signee Mikael Zewski faces the more experienced Daniel Sostre on the undercard.

Felix Verdejo (131.5lbs) vs. Steve Gutirrez (130lbs) - Felix Verdejo stays active in his first pro run against 4-3 fighter Steve Gutirrez.

Glen Tapia (154.5lbs) vs. Joesph De Los Santos(153lbs) - Proud Jersey-born fighter Glen Tapia prepares for another test in an 8-rounder against Dominican club honcho Joesph De Los Santos.

Catch the undercards live on Toprank.tv from 7:00 PM EST featuring Long Island based Irish-American Seanie Monaghan (17-0-0 10 KO's), Puerto Rican olympian Felix Verdejo (4-0-0 3 KO's), "Jersey Boy" Glen Tapia (17-0-0 10 KO's) and of course rising Canadian star Mikael Zewski (18-0-0 14 KO's). Some great prospects are being featured on the bill and if you unfortunately cannot be at the Radio City Music Hall, be sure to tune in by all means necessary. Hope you enjoyed our pre-fight roundup.

Corey Quincy is an aspiring boxing writer at FightHype.com. Follow him on Twitter at Quincyboxingfan and don't hesitate to email him any questions at CQuincy@fighthype.com.