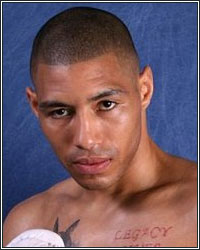 "I am getting some great work, and like you said, I'm adding to my game because I have been getting some great sparring with some of the world's best boxers here. I have been getting to watch Floyd train, so I'm learning from the best in the business. Sometimes we go out for a run with Floyd and it's a great experience here," stated jr. welterweight contender Ashley Theophane, who gave us an update on the atmosphere at the Mayweather Boxing Club and much more. Check it out!

PC: How are you doing my man?

AT: It's cool, man; just putting in the work at the Mayweather Boxing Club. I'm getting some great work with some good fighters, so I'm making the most of it out here.

PC: What brought you to Vegas and to the Mayweather Boxing Club?

AT: Well, I first came for 4 week because I had the title fight back in Europe on April 12th, so I came out here for 4 weeks. While I was out here, the promoter didn't get the TV deal, so the show fell through and I was here already. I was getting some good work at the gym, so I just figured I will stay until May 5th, the day after Floyd's fight. The Money Team is being real cool with me, so I'm just hanging out with them and getting good work and getting it all in.

PC: With the card falling through, you still haven't fought yet this year. Has that been frustrating for you or are you using it as an opportunity to add to your skill set?

AT: In June, it will be my 10th anniversary as being a fighter. My next fight will be my 40th fight. I have been offered fights, but it's been fights that didn't really appeal to me. I have been waiting for the right opportunity and the right fight to come. There is not a rush because I am getting great work here. I'm sparring with Shawn Porter and Mickey Bey and Caballero, the 2-weight world champion. I sparred him for 3 weeks straight helping him with his fight on April 20th. I been getting it in with some good fighters. I sparred Vernon Paris when he came here. Even though I don't have a fight, I am getting some great work, and like you said, I'm adding to my game because I have been getting some great sparring with some of the world's best boxers here. I have been getting to watch Floyd train, so I'm learning from the best in the business. Sometimes we go out for a run with Floyd and it's a great experience here.

PC: Is the quality of training the thing that separates your time in the UK from your time in the United States?

AT: To me, if you are a British boxer or any boxer, you wanna train with the best. You want to train with the best and to me, there is no chance you can go to the UK and get the caliber of sparring that I have been getting here in Las Vegas. So for me to work with these great fighters, and I am being trained by Nate Jones, who works with Floyd as well; it's great. I work with Nate and I spar good fighters and I get to watch Floyd train and run with him. As a kid, when you watch the big fights on TV, you wanna fight and train in America being a British kid and that's what I am doing. British boxers usually wait to come stateside, but I have been one that always came over here. A lot of the American boxers respect me because they know I come over here and handle my business.

PC: How is Floyd looking in this camp and what is that experience like to watch him prepare for a fight?

AT: I have been here for 5 weeks now watching Floyd and I think he is ready. He is looking sharp. He is doing these 5 minute rounds with 30 seconds of rest and sparring some big guys. He is ready. If the fight was tomorrow, he would knock out Guerrero tomorrow. Floyd is a perfectionist and he's putting in that work. It's a privilege for me to be able to watch the best in the game do his stuff. I came here for 2 weeks last year when he was going to fight Cotto and I saw then what he was doing and I liked it, so I came here for 4 weeks to get more of it and then after the fight fell through, it was just best to stay. So now, I have been here for 9 weeks at the Mayweather Boxing Club and Floyd is just a perfectionist. When he is in there, you can see him digging deep and it's amazing the amount of work he puts in. He is definitely one of the greatest boxers ever and he is the pound-for-pound king right now. He is a nice guy and he's down to earth. He likes to joke around. He is a good guy.

PC: Would you ever consider a move to the United States or do you enjoy coming get work here and then going back home?

AT: I do like going back and forth. To me, boxing is a worldwide sport, so I fly all over the place. I don't care where it is. To me, a ring is a ring. I have been going to New York since 2005. I love Gleason's Gym. And now, coming here to Vegas…I mean, Roy Jones and Jean Pascal were at the gym hanging out. So I am loving Vegas. And if it was possible, I would come over here. You never know what the future holds for me, but I love America; that's why I am always here.

PC: Your fellow countryman Amir Khan said no one would fight him at 140. What do you think of that comment from Khan?

AT: I don't know about that because he is fighting in the UK and I'm from the UK. His team knew I was available if he wanted that fight. He is fighting Julio Diaz, who is shot. We have fought the same opponent in Danny Garcia and Danny knocked him out in 4 rounds and I went 10 rounds with Danny and when I came to the Mayweather Boxing Club, Floyd was like, "This is the kid that beat Danny Garcia." So everyone knows that I beat Danny, but it is what it is. That's a part of boxing. I don't know what Khan is talking about because I know a lot of guys that want to fight Khan. I know Khan has speed and he has skills, but it only takes one shot with Khan and you got 12 rounds to make that happen. I know Khan is a 2 or 3-time champion, but I can't see that happening again because 140 is looking kind of strong right now and I believe if he fought Danny Garcia again, it would be the same result because you can't hide for 12 rounds in that ring. And when he gets hit clean, he's going to go down. But he's fighting at a catchweight and I would have gone down to 140 to make that a fair fight and it would have been a better fight then he's going to get from Julio Diaz. But it is what it is. The only guy I would fight in Britain is Amir Khan. Maybe it will happen in the future, maybe not, but I'm too high risk and low reward for it to happen, but you never know what the future holds.

PC: You wanted the fight with Zab Judah for a long time. You guys were going back and forth and you did fight Danny Garcia. How do you see that fight playing out?

AT: My New York friends say that Zab has a chance. They say he is looking good, like he did with his victory against Paris. Zab, when it goes past 4 or 5 rounds, he kind of loses it if you can take his power. Zab is a tremendous boxer and to beat Danny, he's going to have to use angles and outbox him and you have to make him think or frustrate him. I think that Zab has got a chance, but he's gotta stick to his game plan. And Danny knows he just has to walk down Zab and just keep banging on him. I lean towards the young fighter Danny. Zab is working out here in Vegas and he could have got work with me, but it is what it is. He's got his own sparring guys that he's using. So I think it will be a good fight. Zab had a great career, but I think he could have done even more. It's all in his mind. Maybe it is coming to an end of Zab's time and it is Danny Garcia's time. We will have to watch on Showtime and see.

PC: I appreciate the time. It's great to finally get on the phone with you and chop it up. Is there anything else you want to add?

AT: No doubt, man. Thank you very much. I appreciate you doing the interview with me and watch out because 2013 is going to be a big year, man! Watch out!
[ Follow Percy Crawford on Twitter @MrLouis1ana ]