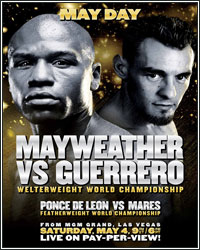 With less than three weeks to go before "MAY DAY: Mayweather vs. Guerrero," Floyd "Money" Mayweather and Robert "The Ghost" Guerrero participated in media workouts on back-to-back days last week in Las Vegas.

Eight-Time and Five-Division World Champion Mayweather worked out Wednesday, April 17 at the Mayweather Boxing Club and Six-Time and Four-Division World Champion Guerrero on Tuesday, April 16 at the IBA Gym.

Joining Mayweather on Wednesday was Leonard Ellerbe, CEO of Mayweather Promotions, and several up and coming boxers from Mayweather Promotions - J'Leon Love, who faces Gabriel Rosado on the May 4 SHOWTIME PPV undercard from MGM Grand Garden Arena in Las Vegas, and Luis Arias and Badou Jack, who will appear in non-televised fights on May 4.

Richard Schaefer, CEO of Golden Boy Promotions, was on hand at both Mayweather and Guerrero's workouts and expressed his excitement for the mega-event.

See below what the world champions, executives and other boxers said:

FLOYD MAYWEATHER, Eight-Time and Five-Division World Champion

"I've got to give thanks to everybody; there are so many different sponsors, Corona, Valvoline, MGM Grand and so many other people that have supported me throughout the years, all my fans, the media, my followers on Twitter. To SHOWTIME, CBS and all the other networks that have been showing love to me.

"SHOWTIME has let me do a lot of creative things. '30 Days In May,' 'ALL ACCESS' and we have another documentary coming out on CBS. I have a new relationship and a new marriage and I'm happy now.

"Freedom is very, very important. You can be locked up and be rich, but it's just like being poor if you don't have freedom. So, freedom is very, very important. That's how I feel.

"I have another big fight on May 4th and it is against Robert Guerrero, 'The Ghost.' This guy is very, very confident and he believes in himself. We know he has only one loss, but they say a true champion can bounce back.

"It's obvious he did something right to get to this point. It's obvious he did something right in the Andre Berto fight. He dedicated himself to his craft, which is boxing. He stayed focused and he listened to his corner.

"I want a fighter to come in confident. We don't want the odds to be crazy, but the odds will always be crazy because I've proven myself over the years. But we want a fighter like Robert Guerrero who's confident and believes in his skills. Only thing that we [The Money Team] can do is push me to the limit and take me to that next level. That's what it's about.

"Now he [Robert Guerrero] got the fight with me. The game plan is to go out there, be smart and get the victory the best way I know how, continue to give the fans what they want to see, work hard and set record-breaking numbers.

"I'm a winner. I like to perform. I like to entertain and that's what it's about. It's about going out and giving the fans what they want - excitement.

"I've faced every style so it's not hard for me to make an adjustment. I just have to go out there and see my dad's game plan is going to be.

"Like I always say for every fight, everybody had a game plan. All 43 of my opponents had a game plan and all 43 opponents came up short. So, I could care less what my opponent has to say. There isn't a blueprint on how to beat me. No one has found a way to break the Mayweather code.

"Being a legend, wanting your name mentioned in the mix of other fighters' names, that's why I work so hard right now. I've been fighting since 1987. I've been a professional for 17 years. I've been dedicated to my craft.

"I don't think the layoff will affect me. My dad is back in my corner. My dad is my lead trainer, but I'm also working with my uncle Roger. The Mayweather family, as of right now, has good chemistry.

"Camp has gone tremendously. My weight has already been made, and I'm ready to fight. I feel good and, like I said, I couldn't do it without the support from the fans. When I was locked away, the fans wrote me letters and sent cards and I really appreciated that.

"This is world championship boxing and it's always blood, sweat and tears. It's not a sport if there isn't blood, sweat and tears. I'm happy that my dad is back in my camp and we're going strong. It's good working with him. If we have a problem and we're not seeing eye-to-eye, we pull each other to the side, talk about it and we get on the same page."

LEONARD ELLERBE, CEO of Mayweather Promotions

"Mayweather vs. Guerrero is the biggest fight of the year. Everyone is excited, and we want the fans to be engaged. It's going to be a great, great fight.

"I think he [Guerrero] put himself in this position by beating a very good fighter in Andre Berto. It was a very exciting fight and he proved that he could fight Floyd. I think he put himself in the position where he became more than a viable opponent. He became 'the guy.'

"It doesn't matter what the manager says and it doesn't matter what the promoter says. It will be up to the fighters come May 4th.

"He's [Floyd Mayweather] a lot more laid back, and he values freedom. Having been incarcerated was definitely a life-changing experience for him. It was something he hadn't experienced before. No one wants to be in that situation. There's nothing to prepare you for something like that. The environment and conditions he was placed in made it tough. But that's behind him. He did his time and it's time to move on."

J'LEON LOVE, Rising Middleweight Star

"Having Floyd [Mayweather] as a mentor and seeing him train in the gym everyday is such a special opportunity for a young fighter like myself. He is the best in boxing and just being around him and watching him train the way that he does has already taught me a lot.

"I'm ready to go on May 4th and I'm so grateful to Mayweather Promotions for giving me the opportunity to open the pay-per-view portion of the event. I've been training hard. I'm prepared to go in there against Gabriel Rosado and give it my all.

"I don't take anything for granted. I feel this is a moment in my career that I will remember for a long time and I'm looking forward to showing Floyd and boxing fans worldwide that they can count on me to become a world champion in the near future."

BADOU JACK, Top Light Heavyweight Prospect

"Eddie [Mustafa Muhammad] is a great trainer. He's like a father figure to me. He's like family. He's a great motivator, so having him in my corner makes me very confident.

"He [Floyd Mayweather] is one of the greatest fighters of our era, so it is a great feeling for a guy like that to have your back."

LUIS ARIAS, Top Super Middleweight Prospect

"Camp is going really well. I'm definitely excited. Obviously this is a huge platform for me and a great opportunity for me. It's an exciting part of my life to be only 4-0 and be fighting on such a big stage, but I'm ready.

"I'm young and I'm hungry. This is what I wanted.

"Sparring with Floyd is an unbelievable thing. My confidence is at an all time high."

# # #

"MAY DAY: Mayweather vs. Guerrero," a 12-round fight for Mayweather's WBC Welterweight World Championship and the vacant Ring Magazine Welterweight World Championship, is promoted by Mayweather Promotions and Golden Boy Promotions and sponsored by Corona, O'Reilly Auto Parts, AT&T, Star Trek Into Darkness and Valvoline. The mega-event will take place Saturday, May 4 at the MGM Grand Garden Arena in Las Vegas and will be produced and distributed live by SHOWTIME PPV® beginning at 9:00 p.m. ET/6:00 p.m. PT. The event can be heard in Spanish using secondary audio programming (SAP). Also featured will be WBC Featherweight World Champion Daniel Ponce de Leon taking on Two-Division World Champion Abner Mares in a 12-round fight for Ponce de Leon's WBC Featherweight World Championship, former IBF Bantamweight World Champion Leo Santa Cruz facing veteran Alexander Munoz in a 10-round fight for the vacant USBA Junior Featherweight Championship and rising star J'Leon Love squaring off against recent world title challenger Gabriel Rosado in a 10-round middleweight battle for the vacant NABF Middleweight Championship.

Remaining tickets for "MAY DAY: Mayweather vs. Guerrero" priced at $1,500, $1,250, $800 and $600, not including applicable service charges, are on sale now with a ticket limit of 10 per person. To charge by phone with a major credit card, call Ticketmaster at (800) 745-3000. Tickets will also be available for purchase at
www.mgmgrand.com or www.ticketmaster.com.

General admission tickets for the "MAY DAY: Mayweather vs. Guerrero" closed circuit telecasts at ARIA, Mandalay Bay, The Mirage, Monte Carlo and New York-New York, are priced at $50, not including handling fees, and are available for purchase at each individual property's box office outlets and by phone with a major credit card at 866-799-7711. Ticket sales are limited to eight (8) per person. Tickets also are available through Ticketmaster by calling (800) 745-3000 or online at www.ticketmaster.com.

For more information, visit www.floydmayweather.com, www.mayweatherpromotions.com, www.goldenboypromotions.com,www.sports.sho.com and www.mgmgrand.com, follow on Twitter at @FloydMayweather, @GHOSTBOXING, @DanielPonceDel1, @abnermares00,@MayweatherPromo, @GoldenBoyBoxing, @mgmgrand and @SHOSports, follow the conversation using #MayDay or become a fan on Facebook at www.facebook.com/FloydMayweather, www.facebook.com/MayweatherPromotions, www.facebook.com/GoldenBoyBoxing,www.facebook.com/GhostFans and www.facebook.com/SHOsports.