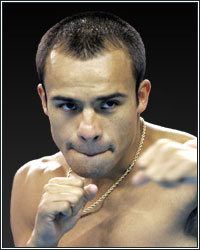 According to Hall of Fame promoter Bob Arum, WBO welterweight champion Timothy Bradley has agreed in principle to defend his title against 4-division world champion Juan Manuel Marquez at the Thomas & Mack Center in Las Vegas, Nevada on September 14. The bout will be televised on HBO Pay-Per-View. Marquez originally leaked the news of the fight last week, but it wasn't until Monday evening when Bradley officially agreed to it.

"The fight is agreed to. We have contracts out to both fighters. [Top Rank president] Todd [duBoef] worked hard with both sides and [Marquez co-promoter] Fernando [Beltran] worked hard with Marquez and we came to terms with both of them," Arum recently revealed to ESPN.com. "These guys wanted to fight each other, too. They really wanted to fight each other, even though either of them could have opted to fight Manny. But Bradley-Marquez is an interesting fight. People are going to see an action fight."

The news of the fight taking place on September 14 is significant considering that, earlier this year, Mayweather Promotions CEO Leonard Ellerbe revealed that undefeated pound-for-pound king Floyd Mayweather would fight, not once, but twice this year, the first fight taking place on May 4 and the second fight taking place on...yep...you guessed it...September 14. Mayweather is currently preparing for a May 4 showdown with multi-division world champion Robert Guerrero, however, it remains to be seen if he will indeed make the quick turn around to begin training for a September clash, especially considering that last year, he spent his summer serving a 90-day jail sentence, missing valuable time with his children.

If Mayweather does fight on September 14, which he recently said he was still planning on doing, then Arum does plan on changing the date of Marquez vs. Bradley. "Marquez and Bradley is a huge fight, especially with Hispanics, so we'd like to do it on Sept. 14. Nobody can say we're jumping Golden Boy's date. We have a date in reserve in case Mayweather fights on Sept. 14, which I don't believe he will wind up doing," he explained. "If he doesn't, we will go on Sept. 14. If [Golden Boy Promotions CEO Richard] Schaefer is going to bait and switch and try to put in some other fight on Sept. 14, he won't get away with it. But if Mayweather fights then, fine. We'll move."

Interestingly enough, just last month, Ramiro Gonzalez, the Director of Public Relations for Golden Boy Promotions, revealed that jr. middleweight champion Saul "Canelo" Alvarez would be headlining his first pay-per-view event on September 14. In fact, not long after unifying the WBC and WBA titles with his unanimous decision victory over the previously undefeated Austin Trout, Alvarez reiterated that he was planning to fight again in September. Not to mention, Golden Boy Promotions President Oscar De La Hoya recently tweeted, "Who's ready for some cinnamon in September?" If I had to take a guess, I'd say that there's an excellent chance that it will be Golden Boy Promotions, not Mayweather Promotions, that will be going head-to-head with Top Rank on the coveted Mexican Independence Day weekend of September 14.
[ Follow Ben Thompson on Twitter @fighthype ]