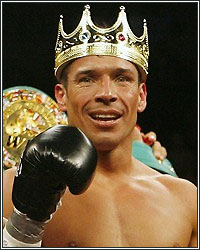 This weekend was jam-packed full of combat sports action from all parts of the globe. From the east coast to the west coast, from the UK to Argentina, there was no shortage of drama and intense moments in several different fights. Get a quick recap of what went down, who was upset, and who had a more difficult time than expected.

Amir Khan Survives Knockdown To Narrowly Win Decision
Former jr. welterweight champion Amir Khan found himself in a much more difficult than expected war with former lightweight champion Julio Diaz. Although Khan appeared to be landing his shots at will early in the fight, Diaz landed a perfect left hook that would send Khan to the canvas in the fourth round. After that, it was a back and forth battle as both men would find success in each round. Diaz was clearly the aggressor as Khan looked to land quick combinations while keeping his distance. As the championship rounds approached, it was Diaz who appeared to be coming on strong, landing big shots that appeared to rock Khan from time to time. In the end, however, Khan was able to hold on to the lead he built up on the scorecards, narrowly edging Diaz out with scores of 114-113, 115-112, and 115-113 all in his favor. It's clear that Khan still has some learning to do under the tutelage of his new trainer, Virgil Hunter. Although he still has an abundance of offensive firepower, Khan has yet to grasp the defensive fundamentals he'll need to become a well-rounded fighter, particularly if he hopes to eventually move up to the welterweight division.

Sergio Martinez Survives Knockdown To Retain Title
Middleweight champion Sergio Martinez also found himself in a much more difficult fight than expected against Martin Murray, an opponent he handpicked. Murray was patient with his game plan, keeping a high guard up and firing a jab that kept Martinez at bay and unable to counter when he wanted to. Whether it was the pressure of fighting in his home country of Argentina or simply his age catching up to him, Martinez appeared to be getting somewhat tired and lackadaisical as the fight progressed. In fact, in the eighth round, Murray would catch him against the ropes with a right hand that would send the champion to the canvas. Ultimately, however, Martinez would find enough energy to rally in the late rounds and hold off the charge of Murray. All three judges scored the bout 115-112, 115-113, and 115-112 in favor of Martinez.

Bermane Stiverne Drops And Outboxes Chris Arreola
Say hello to Bermane Stiverne, he sent a statement to the rest of the heavyweight division with his dominant unanimous decision victory over Chris Arreola. Stiverne blasted Arreola with a perfect right hand that floored the former title challenger in the third round. Although Arreola got up from the knockdown, his nose and face was bloodied and battered, and he was never really able to get back into the fight after that. Stiverne would continue to dominate for the rest of the 12 rounds, winning a wide unanimous decision with scores of 118-109, 117-110, and 117-110. With the win, Stiverne has earned himself a shot at WBC heavyweight champion Vitali Klitschko.

Jones Crushes Sonnen With Ease
In MMA action, UFC light heavyweight champion Jon Jones made quick and easy work of challenger Chael Sonnen, using his superior size and strength to break him down with some dirty boxing against the cage before taking him to the ground and pounding his face to a bloody mess before the referee called a halt to the action at 4:33 of round 1. About the only noteworthy thing to happen in the fight, if you can even call it that, was that Jones somehow broke his toe in the process of breaking Sonnen's face.

In one other notable fight, Peter Quillin easily retained his middleweight title after dropping Fernando Guerrero four times en route to a 7th round stoppage.