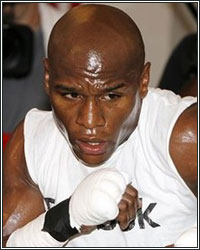 "From what I see, he's just a very, very dirty fighter. There's nothing sharp about his fight game," stated WBC welterweight champion Floyd Mayweather when asked what he expected from his mandatory challenger, Robert Guerrero, when the two finally step into the ring this Saturday, May 4, at the MGM Grand Garden Arena in Las Vegas, Nevada. On several occasions, the undefeated pound-for-pound king has made it clear that he doesn't think Guerrero brings anything special to the table when it comes to his boxing skills.

"I don't think he's a better boxer than Zab Judah. He's not faster than Zab Judah, and I don't think he has faced the competition that Zab Judah has faced. As far as Corley, I mean, he don't punch as hard as Corley. I don't think he's a harder puncher than Corley," Mayweather recently explained. "But he's here, he's the guy that's in front of me, so we'll just see what he brings to the table come May 4th."

Obviously, Mayweather was less than impressed by Guerrero's most recent outing against Andre Berto, a fight he clealry won via unanimous decision, but a performance that received some criticism due to tactics that many describe as being dirty. Specifically, some have noted that the knockdowns that Guerrero scored were largely due to the fact that he was allowed to hold Berto behind his head while repeatedly hitting him, which is definitely illegal according to the Unified Rules of Boxing. Furthermore, others have accused Guerrero of leading with his head in that fight. Whether or not any of those tactics will play out come Saturday night remains to be seen, however, I would not be surprised if Team Mayweather made it a point to bring them up in the locker room during the referee's instructions prior to the fight.
[ Follow Ben Thompson on Twitter @fighthype ]