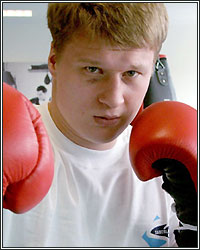 There is only one stepping-stone left between Alexander Povetkin (25-0, 17 KOs) and the World Championship bout with Wladimir Klitschko (59-3, 50 KOs). The current WBA Champion takes on Andrzej Wawrzyk (27-0, 13 KOs) this Friday, a must-win situation for Povetkin. Defeat is not an option or the hotly anticipated fight against the Ukrainian is over before it has even begun. The champion met up with his challenger for the very first time during today´s press conference. This is what they had to say:

Alexander Povetkin (WBA Heavyweight Champion): "I am putting my belt on the line, so this is a very important fight for me. I promise to give it all I have. My opponent's name on Friday is Wawrzyk and not Klitschko. I am fully focused on him and want to give the fans inside the Arena a great show."

Andrzej Wawrzyk (Challenger): "As soon as they offered me to fight Povetkin, I accepted. This could be the chance of a lifetime. I have been in training anyways so I was ready from the get-go and I will try everything possible to burst the bubble that is the fight between Povetkin and Klitschko."

Kostya Tszyu (Coach Alexander Povetkin): "Alexander has developed a lot during our time together. His punches become more powerful every time we step into the gym and I can feel them through the pads. I am glad that he does not hit me anywhere else. Wawrzyk should better be careful because Alexander´s strength will make the difference on May 17."

But not only the heavyweight championship, which Vitali Klitschko will be attending, will keep the fans on the edge. Also WBA Cruiserweight Champion Denis Lebedev (25-1, 19 KOs) takes on "Champion in Recess" Guillermo Jones (38-3-2, 30 KOs).