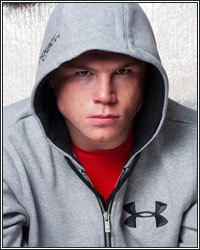 Sources close to the information have informed us that unified jr. middleweight champion Saul "Canelo" Alvarez is looking to make some changes to his team prior to his expected return to the ring this September. Evidently, Alvarez was not pleased with his conditioning in his last bout, a 12-round unanimous decision victory over previously undefeated Austin Trout. Midway through that fight, he appeared to be pacing himself, fighting in spurts while tiring down the stretch. According to our sources, Alvarez is considering working with a new strength and conditioning coach to avoid a repeat performance.

"From what I was told, some of his people reached out to a couple guys; Angel [Heredia] and Alex [Ariza] I heard. I don't think either one is availabe though because their plates are full, but the kid is looking for help," one source commented. "If he gets that Mayweather fight, he can't afford to get tired like he did with Trout. He's gonna need all the help he can get, and he's out there looking for it as we speak."

Whether or not Alvarez does indeed hire a new strength and conditioning coach remains to be seen. Unfortunately for him, however, the two hottest coaches in boxing, Angel Heredia and Alex Ariza, will likely be unavailable to fill that role, unless, of course, their plans for the Fall change. Heredia will already be working with Juan Manuel Marquez as he prepares for his own September return against Timothy Bradley [a bout that might even be televised head-to-head with Canelo's return if Floyd Mayweather elects not to fight on that date]. Likewise, Alex Ariza will also be busy preparing Julio Cesar Chavez Jr. for an already tentatively scheduled August return that may end up being pushed back to September as well.

Regardless, the decision to make the changes needed to fix any conditioning problems is a good one. Only 22 years old, Canelo continues to improve as he gains experience with each performance.
[ Follow Ben Thompson on Twitter @fighthype ]