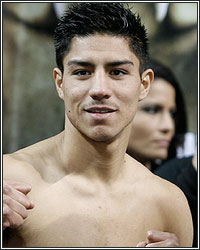 Before J'Leon Love was fighting on Mayweather undercards, there was Jessie Vargas. On September 17, 2011, Vargas fought on the undercard of Mayweather vs. Ortiz. At the time, he was still signed to Mayweather Promotions. In fact, he was perhaps the biggest name on their roster back then and undefeated pound-for-pound king Floyd Mayweather was hyping him as the future of boxing.

Vargas won that undercard fight, a split decision victory over the very game Josesito Lopez. Looking at the careers of both fighters following that fight, it would seem that Vargas was the one with the bright future ahead, while Lopez seemed destined to disappear into obscurity. Ironically, however, Lopez would go on to move up in weight to face the more well-known Victor Ortiz, breaking his jaw en route to winning a 9th round TKO, before moving up yet again to face the popular Saul "Canelo" Alvarez. Although he lost to Alvarez, both fights helped to increase the popularity and notoriety of Lopez, who has secured yet another high-profile fight against Marcos Maidana in June.

Vargas would fight only one more time under the Mayweather Promotions banner, defeating faded former champion Steve Forbes. Following that fight, Vargas jumped ship from Mayweather Promotions to sign with Top Rank. Since then, he has fought 3 times against lesser-known names, winning all 3 fights by unanimous decision. His biggest fight of the 3 was a co-feature slot on HBO against relative unknown Wale Omotoso, who was able to drop him in the 2nd round with a well-placed body shot. Although Vargas was able to get up and still win a unanimous decision, his career and popularity seem to have gone backwards since leaving Mayweather Promotions.

I'm still curious to see how far Jessie Vargas will go in his career. He's young and undefeated, but I don't see him fighting fellow Top Rank fighters Timothy Bradley, Juan Manuel Marquez, Manny Pacquiao, or Brandon Rios any time soon. Currently, he is awaiting his next opponent, but if they don't get him a more well-known opponent soon, Vargas might find that he's the one destined to disappear into obscurity. Time will tell if Floyd Mayweather was right or wrong about Jessie Vargas being the future of boxing.