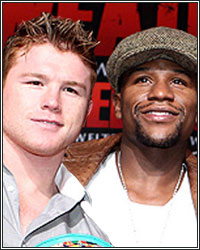 It's Monday. Welcome back for another edition of Observe and Fight, The Boxing Observer's compilation of observations and random thoughts from the week that was in boxing. Get caught up on some of the most recent events you may have missed out during the last two weeks, including the official announcement of Floyd Mayweather vs. Canelo Alvarez, what that means for the rest of the boxing world, Carl Froch's war of words with everyone, the return of Butterbean, and much more. Without further ado, check out the latest observations from The Boxing Observer, David Kassel.



Boxing fans should give props to both Floyd Mayweather and Canelo Alvarez for taking this fight. While fans are going to come up with every reason to criticize this fight on September 14th, they should appreciate the fact that the best 147 and 154-pound fighters in the world are willing to face off. I wrote last week that this fight would make the most sense in May 2014 because, with a proper 6-month buildup, Mayweather vs. Canelo could break astronomical records. I do not believe this fight will exceed 2 million pay-per-view buys because it is happening too quickly, but this is the best fight that could possibly be made in boxing right now. Mayweather could have taken another easy fight in September, but he chose to take the risky route because the fans were demanding it. Canelo deserves the same amount of, possibly even more, praise than Mayweather. Canelo has been calling for this fight for about 2 years now and hasn't allowed Golden Boy Promotions to bring him along slowly anymore. He made it very clear that he wanted to fight the very dangerous Austin Trout, and didn't take no for an answer. Canelo could have had one or two more fights before taking on Mayweather and the fight would still have been available, but he decided to take it now. He feels ready for the challenge and I commend him for not allowing his handlers to talk him out of it.


The catchweight clause of 152 pounds is no big deal. The major issue most fans will complain about is the fact that Mayweather fought both Oscar de La Hoya and Miguel Cotto at the junior middleweight limit of 154 pounds and told the world he wanted to face these guys at their best. He is forcing Alvarez to come down in weight to 152 for this fight. Mayweather stated in an interview with Fighthype's Ben Thompson that it was Canelo who originally said he would come down to 150 pounds for the fight. Be that as it may, but I see this as the ultimate compliment to Canelo. If Mayweather believes those two pounds will make a difference, he must see this as the biggest challenge of his career. The reason I say the weight is no big deal is because if both parties agreed to the catchweight and the contracts are signed, it was clearly acceptable to both fighters. Therefore, it should be acceptable to the fans. End of discussion.


Don't be surprised if we see a rematch of Mayweather vs. Canelo down the road. This fight has positives for both fighters, win or lose. If Mayweather wins, Canelo will easily rebound and build himself back up as a 23-year-old superstar to eventually prove he is ready for another shot at Mayweather. If Canelo wins, we'll see an immediate rematch, probably on Cinco de Mayo weekend of 2014, in what will be a fight that could break every record in the history of boxing. The only man to defeat Mayweather in professional boxing would also have earned enough respect to dictate terms and earn himself even more money. Win-win for everyone.


Bob Arum is a very smart man for swallowing his pride and moving the Juan Manuel Marquez vs. Timothy Bradley pay-per-view. It can't be easy for the Top Rank boss to admit that Floyd Mayweather is the biggest draw in boxing, so moving a pay-per-view date has to eat away at him. It was definitely the right decision, and I'm willing to bet that HBO had something to say about it as well. Marquez vs. Bradley might do 500,000 pay-per-view buys, but if it were going head-to-head with Mayweather, it may not crack 200,000. Smart business decision by Top Rank and HBO.


What does Mayweather vs. Canelo mean for the rest of boxing? The answer is simple...EVERYTHING! From 140-160 lbs. this fight means the world to anyone hoping to get a crack at Mayweather or Canelo. The winner between Lucas Matthysse vs. Danny Garcia could be in line for a shot at Mayweather. Same goes for a potential fight between Devon Alexander and Amir Khan (which is close to being finalized for December 7th). Should Paulie Malignaggi beat Adrien Broner, we could see Malignaggi in the ring against Mayweather (however I believe the winner of that fight will face Shane Mosley next). Adrien Broner won't fight Mayweather, he has already made that clear, but that doesn't mean he can't fight the winner of Matthysse vs. Garcia. Josesito Lopez takes on Marcos Maidana this weekend. A lot of major fights with major implications. Same goes for anyone in the 154 to 160 weight classes. Keith Thurman is building himself as a legitimate contender at 154 (as well as 147). Austin Trout is still in the mix. The Erislandy Lara vs. Alfredo Angulo winner could get a shot. Miguel Cotto is most likely taking on Cornelius Bundrage on September 28th, which could mean big things for both guys. The winner of Ishe Smith vs. Carlos Molina is a belt-holder, as is the winner of Zaurbek Baysangurov vs. Demetrius Andrade. I'm not even tapping into the middleweight division. Sergio Martinez is out for the rest of the year but is still the reigning middleweight champ. Peter Quillin has a belt, is getting better with every performance, and is one of the most entertaining fighters in boxing. Gennady Golovkin takes on Matthew Macklin. Daniel Geale defends his title against once beaten Darren Barker (a tough loss to Sergio Martinez). Each one of these fighters has a chance to meet Mayweather or Canelo down the line, but they must keep winning in order to do so. Hey, even Andre Berto, Robert Guerrero, Ruslan Provodnikov, and Victor Ortiz are still in the mix believe it or not. That makes each one of these fights so important.


Isn't it a shame that my list of fighters above does not include anyone from the Top Rank stable? Can you imagine if we were able to include fighters like Julio Cesar Chavez Jr., Juan Manuel Marquez, Timothy Bradley, Manny Pacquiao, Brandon Rios, Mike Alvarado, Carlos Abregu, Vanes Martirosyan, Jessie Vargas, Khabib Allakhverdiev, and Karim Mayfield? Isn't it time we ended this stupid Top Rank vs. Golden Boy, HBO vs. Showtime feud?


Carl Froch may be talking himself into a rematch with Andre Ward. First, Froch tries to convince Ward to come to the United Kingdom, which Ward says he is willing to do if the terms are right. Now, Froch says he is willing to come to Las Vegas for a fight with Ward. Froch believes he can beat Ward and become the best pound-for-pound fighter in the sport. While Froch has beaten everyone he has faced, except Ward, a win would warrant nothing more than a trilogy fight. Ward handled Froch easily in their first fight, and I don't believe a rematch would be any different. Also, why is Froch taking shots at Joe Calzaghe? For Froch to say he is better than Calzaghe is a tough pill to swallow. While a case can be made that Froch has faced the better competition, the fact remains that Calzaghe retired undefeated. That's a tough one to get past for me. I will give Froch credit for one thing though. He abstained from his girlfriend, Rachel Cordingley, for 3 months while training for the Mikkel Kessler rematch. I don't know of any man who would have been able to do that. Cordingley is one of the most beautiful women in the world, and there aren't many men who could resist that kind of temptation.


Both HBO and Showtime have tremendous fights this weekend. Chad Dawson should handle Adonis Stevenson on HBO, but Dawson is very much a Jekyll and Hyde fighter. Stevenson will check Dawson's heart from the outset, and if Dawson isn't ready, he could be going nighty-night. On Showtime, a potential Fight of the Year candidate takes place between Josesito Lopez and Marcos Maidana in what will be all-action from the start. Both fighters will throw absolute bombs and defense will be at a premium. You don't want to miss it. On the HBO undercard, Yuriorkis Gamboa and Darley Perez square off in a fight I don't see going the distance either way. Two entertaining warriors will make for a fun fight. As mentioned before, Alfredo Angulo takes on Erislandy Lara in a match-up of two fighters with very contrasting styles. Also, not televised on American television, but the trilogy fight between crusierweights Marco Huck and Ola Afolabi takes place in Berlin. Both fights have been razor-thin barn-burners and Afolabi is willing to do anything it takes to earn the victory he feels he has already gotten twice.


A David Haye vs. Tyson Fury heavyweight bout is being discussed. Should I bring my pillow out now or later? The heavyweight fight I'm excited about seeing is Malik Scott taking on Dereck Chisora on July 20th. That will be Scott's biggest test and Chisora's chance at redemption. Should be a good one.


Butterbean is making a comeback! I don't know why this has me excited, but it does. I guess it's the sight of seeing the red, white, and blue trunks over a large belly making one more appearance in the ring gets me all hyped up. LOL.


Each week, I feature an email from a fan on Observe and Fight. This week's email comes to us from Stephen Donatelli regarding Floyd Mayweather's chances against some of the all-time greats...


"Where do you currently rank current p-4-p kingpin – Floyd "Money" Mayweather Jr. (44-0, 26 KO's) on your ALL-TIME list? Also, how do you think Mayweather Jr., in his prime, would fare against the likes of boxing legends: Aaron "The Hawk" Pryor (39-1, 35 KO's), Pernell "Sweet Pea" Whitaker (40-4-1, 17 KO's), Sandy Saddler (144-16-2, 103 KO's) & "Sugar" Ray Leonard (36-3-1, 25 KO's). In my honest opinion, the only one that has a great chance of defeating Mayweather Jr. is Pernell Whitaker because he's the best defensive fighter in history (Sorry Willie Pep). I thoroughly respect your Ring knowledge & really want to know how "Pretty Boy" Floyd stacks up against these 4 Boxing Immortals!"


As for Floyd all time, he's definitely in my Top 15. Most likely Top 10. Floyd falls victim to something that may not be his fault...lack of competition. I've never thought it fair to compare fighters from different weigth classes from different generations, so I can't really compare Mayweather to the Ali's or Sugar Ray Robinson's of the world. Those two, along with Jack Johnson, Rocky Marciano, and Joe Louis are just a few that easily crack my Top 10. I think Mayweather would have outclassed Pryor because he was just as fast (maybe faster) than Pryor and is much more slick. Also, I think Floyd's power is very underrated. Mayweather would also have beaten Whitaker in my mind because he would have gotten off offensively much better than Sweet Pea. Mayweather was much bigger than Saddler and quicker as well. Easy work for Mayweather. Ray Leonard would have given Mayweather the most trouble, but Leonard would have gotten sucked into a Mayweather type of fight, which would ultimately be the difference in my mind. Great matchups though.

That's all I've got for this week. Email any questions or comments to
dkassel@fighthype.com
and I will answer them throughout the week. Your email may be featured in the next "Observe and Fight." Follow me on Twitter @BoxingObserver, and be sure to "Like" The Boxing Observer on Facebook.
[ Follow David Kassel on Twitter @BoxingObserver ]