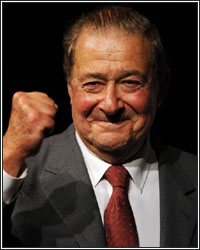 "They don't have the stamina. They run out of gas. That's what happened to him in the Austin Trout fight, but Austin Trout didn't know how to capitalize. Mayweather would, so I think Mayweather wins a decision or stops him late," stated Hall of Fame promoter Bob Arum, who shared his toughts on the highly-anticipated September 14 showdown between undefeated pound-for-pound king Floyd "Money" Mayweather and undefeated jr. middleweight champion Saul "Canelo" Alvarez. According to Arum, the naturally bigger Alvarez lacks both the stamina and the ring intelligence to compete on Mayweather's level.

"When he [Trout] saw the guy [Alvarez] running out of gas, which he clearly did, you know, the guy threw very few punches in a lot of rounds, he didn't step on the pedal. He just, you know, which was disappointing, but Mayweather is too smart for that," Arum explained in a video recorded by Luis Sandoval of BoxingScene.com. When asked point blank if he thought that Alvarez had the tools necessary to be the first to defeat Mayweather, Arum didn't hesitate with his response.

"No! Not now. If they had fought a year or two years from now, maybe it would be different, but Canelo just doesn't have the speed or the stamina to cope with Mayweather. Mayweather's a really good fighter," Arum added. "Right now, off Mayweather's last fight, Canelo doesn't stand much of a chance."
[ Follow Ben Thompson on Twitter @fighthype ]