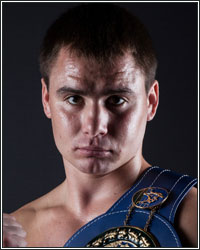 SERGEY RABCHENKO cannot wait to box in front of his home city fans again.

The reigning European and WBC Silver light-middleweight champion stars in Minsk, Belarus for the first time in almost two years this Tuesday (July 16) when he faces Gari Abajian at the Moulin Rouge Club.

On the face of it, the fight is merely an eight round warm-up for his upcoming title defence against Spain's Ruben Varon.

But for Rabchenko it's an opportunity to showcase the skills he has picked up while training with former four-time world champion Ricky Hatton in Manchester over the past 18 months.

He said: "No one believed that I would be on this show and that Ricky Hatton would come to Minsk…. And now they can see the posters!

"I would like to express my gratitude to Ricky and Philippe Fondu. They made it a dream come true that I can box in front of my home fans.

"I want to show all the crowd what I have learned from Ricky. It is a warm-up fight, so I'll try something new, which will be useful in future fights."

In an ideal world, Sergey would have been defending his titles against Emanuele Della Rosa this summer, but the Italian's decision to withdraw from purse bids now means that he will now face the aforementioned Varon in Madrid on October 4.

"It was disappointing as I was ready for that defence [against Della Rosa], but anything can happened in boxing, especially at this level," Sergey said.

"After the fight in Minsk, I'll have a very short rest, then go back to training to get ready for Ruben Varon in October."

The big punching Belarusian is already the number one contender for Saul Alvarez's WBC title so victory over Varon should put him in line for a world title challenge in early 2014.