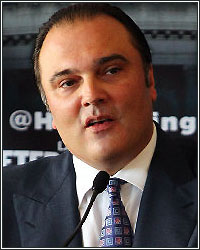 "The gate, we'll be setting a new record. We already announced that, but I can be a little more precise now...It's going to be over 19.5 million dollars, shattering the record of the Floyd vs. Oscar fight; not just breaking it, but yes, shattering it," stated Golden Boy Promotions CEO Richard Schaefer, making it clear that the September 14 showdown between Floyd Mayweather and Saul "Canelo" Alvarez is on track to break a number of records that were previously set when Oscar De La Hoya faced Floyd Mayweather back in 2007. Up until now, De La Hoya vs. Mayweather held the live-gate record, bringing in $18,419,200, but Schaefer's announcement means that record has indeed been shattered by over $1,000,000 and counting.

"Media requests are unheard of. We are setting new sponsor records. We have already 7 confirmed sponsors. We set new foreign sales records, approximately 40% ahead of De La Hoya vs. Floyd. We set new closed-circuit records as per Joe Galardi from A&J, and distributor activations are like never before. The pay-per-view industry has embraced this fight like no other event," Schaefer explained during a conference call to announce another blockbuster fight, Danny Garcia vs. Lucas Matthysse, which will be added to the September 14 event. Considering that Mayweather vs. Canelo is already breaking records on it's own, one can imagine just how big of an event it will be now that arguably the second best fight in boxing has been added to it.

"We sold over 12,000 closed circuit seats already in Las Vegas; unheard of because these seats usually sell last minute before a fight in the last few days. Right now, we have only 6,000 left, but they're working on adding extra seats," Schaefer added. "Together with the 16,500 sold tickets at the MGM Grand Garden, there are almost 30,000 people already which will be in Las Vegas for this fight. I'm trying to get an additional 20,000 closed circuit seats because I believe that the demand is absolutely well over 50,000 people which would want to be there."
[ Follow Ben Thompson on Twitter @fighthype ]