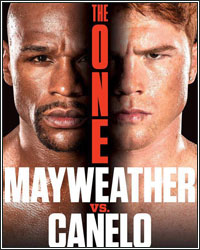 It's Monday. Welcome back for another edition of Observe and Fight, The Boxing Observer's compilation of observations and random thoughts from the week that was in boxing. Get caught up on some of the most recent events you may have missed out on, including the best pay-per-view fight card of all time, a questionable 10 count, a preview of this weekend's action, and much more. Without further ado, check out the latest observations from the Boxing Observer, David Kassel.



Is "The One" the best pay-per-view card of all time? I say absolutely, YES! With the confirmation of Danny Garcia vs. Lucas Matthysse in a junior welterweight title unification as the co-feature, Mayweather vs. Canelo becomes the 2nd most entertaining fight on the card. Don't get me wrong, Mayweather vs. Canelo is the one I want to see the most as it will establish true superiority in boxing, but there is no doubt in my mind that Garcia vs. Matthysse will not go to the scorecards. The other two rumored fights on the televised portion of the pay-per-view are Ishe Smith vs. Carlos Molina for the IBF junior middleweight title (which will be very competitive), and the undefeated prospect Badou Jack taking on the very tough Marco Antonio Periban in the super middleweight prospect's biggest test to date. I'm sure Mayweather Promotions and Golden Boy Promotions will feature up-and-coming prospects on the free portion of the card, before the pay-per-view begins, such as Frankie Gomez (hopefully rescheduling his bout with Demarcus Corley on the card), Jamie Kavanaugh, Joseph Diaz Jr., Julian Ramirez, or a slew of possible others. Thinking about other great fight cards in the past, the only one which comes to mind as a great all-around card (pre-fight) was Mike Tyson vs. Evander Holyfield I, which featured Henry Akinwande defending his WBO heavyweight title, Michael Moorer vs. Frans Botha for the IBF heavyweight belt, Ricardo Lopez defending his WBC minimumweight title, and Christy Martin fighting on the card. Other than that, I can't think of a better pay-per-view event. If you can think of one, please send me an email. I'd love to debate, but September 14th should be an epic night of action.


Is anyone else surprised to see that Canelo Alvarez's connect percentage is higher than Floyd Mayweather's? It's only a difference of 1%, and I know the level of competition has been much tougher for Mayweather, but with Canelo being only 23-years-old, I'm still very impressed. Will that make much of a difference in the fight? We must wait and see.


Did Mickey Bey cost himself a chance at fighting on the undercard of "The One" for a lightweight title with his loss on Friday night? I think there is no doubt about it. Bey, who was in complete control of his fight with John Molina, may have punched himself out a bit and got caught with a vicious left hook in the final round after having almost stopped Molina about a minute earlier. The fact that Badou Jack, who was the co-featured attraction on Friday night (easily outpointing Farah Ennis), is most likely getting the opening fight on the pay-per-view card against Periban tells me that Bey was in line for his first world title shot had he survived one more minute against Molina. No matter what anyone says (including Bey), referee Vic Drakulich did an excellent job as it was a great stoppage. Bey was out on his feet and could have suffered permanent damage. Shout out goes to Badou Jack for handling his business like a professional and trying to take the fight to Ennis, even though Ennis seemed to want no part of the fight. As the old mantra goes, "Win today, look good tomorrow." Not that Jack didn't look good in his victory. Jack will most likely have his opportunity on September 14th.


Hats off to John Molina for never giving up. Molina was competitive, but he had no business beating Bey. It goes to show why boxing is one of the greatest sports in the world. Anything can happen in the blink of an eye. I don't know if Molina is going to get another world title shot anytime soon, but I hope to see him in action again because he is a very entertaining fighter to watch.


Golden Boy Promotions is really trying to outdo itself with each and every fight card. This weekend is no different. Regardless of what you think of Andre Berto as a fighter, he is one of the most entertaining and unpredictable fighters in boxing. He's all-action, all the time. Berto takes on Jesus Soto Karass this Saturday night in the main event of a card appropriately named "Knockout Kings II." I wouldn't be shocked if this fight goes the distance, but I have a feeling we have a Fight of the Year candidate on our hands with this main event. Both guys pack a wallop of a punch, and both guys also take one heck of a punch. I'm really looking forward to this one. Neither of the Showtime-televised undercard fights will go the distance either. I expect Omar Figueroa Jr. to stop Nihito Arakawa in the middle rounds, and Keith Thurman vs. Diego Chaves is a knockout waiting to happen with both men undefeated and winning at a clip of over 81% by knockout. Thurman is the up-and-coming contender, but Chaves, the interim champion, is from Argentina, and we all know about those relatively unknown Argentine knockout artists. Right Victor Ortiz and Thomas Dulorme?


I might be the only one, but I'll be amped up if Golden Boy can put together a great fight card in early September. Richard Schaefer is planning on putting together a fight card featuring heavyweights Chris Arreola and Seth Mitchell (someone is getting knocked out in that one), the return of Victor Ortiz against Alfonso Gomez, the return of Josesito Lopez, and the return of Rafael Marquez. I'm assuming this card would take place in California, either in Carson or Los Angeles, but it would be a great night of action in anticipation of the following weekend's gigantic pay-per-view.


Top Rank's HBO2 card this Saturday isn't anything to scoff at either. While the main event doesn't have me excited (the 2nd professional fight for Chinese gold medalist Zou Shiming), the two televised undercard bouts are all-action fights in the lower weight divisions. The flyweight championship bout between #1 rated Juan Francisco Estrada defending his title against the undefeated Milan Melindo should be a wonderful match-up with great action, and the featherweight title fight between champion Evgeny Gradovich and challenger Mauricio Munoz should be full of action.


Since when does getting up at the count of 9 signify the end of a fight? That's exactly what happened to heavyweight Malik Scott over the weekend in the 6th round against Dereck Chisora. Scott was hit, against the ropes, with an overhand right behind the ear and went down. Scott, who did have his wits about him, decided not to stand up until referee Phil Edwards reached the count of 9. As Scott stood up, Edwards did not complete his count of 10, did not allow Scott to come forward, and waved the fight off. Classy move after the fight by Scott, who gave all credit to Chisora and did not want to create a controversy by blaming the referee, but had I been Scott, I would have raised holy hell for a terrible job of officiating. Scott was not seriously hurt, and he got up before the count of 10. He should have had the opportunity to continue as he was winning the fight.


"Hammerin" Hank Lundy really surprised me on Friday Night Fights. Lundy boxed beautifully and completely outclassed former world title challenger Olusguen Ajose. I came into the fight thinking Ajose would be too big and strong for Lundy, who had fought most of his career at lightweight. I was completely wrong. Lundy controlled the action and hurt Ajose. By the end of the fight, it was Lundy who was the fresher of the two fighters, and Ajose is now left wondering where to go from here. I would love to see Lundy take on Khabib Allakhverdiev in his next bout. It's a logical step up for both men.


Randy Caballero is the truth. He stepped up on Saturday night and proved to me that he is about two fights away from being ready to fight for a world title shot. Miguel Robles was a game opponent and Caballero made a solid adjustment in the middle of the fight en route to stopping Robles with a vicious body shot in close quarters. While Caballero isn't exactly ready for the likes of Leo Santa Cruz, maybe a fight against Luis Orlando Del Valle might be a step in the right direction.


Congratulations to Mike Tyson and Iron Mike Promotions for entering the fight game as a promoter. Tyson will be promoting his first show on ESPN Friday Night Fights, on August 23rd, and has a heck of card lined up. The main event will feature a 130-lb title bout between Argenis Mendez and Arash Usmanee with the co-feature being a featherweight title fight between Claudio Marrero and Jesus Andres Cuellar. Also on the card will be former world champion "The Road Warrior" Glen Johnson giving light heavyweight prospect Isaiah Thomas his stiffest test to date. Good luck "Iron" Mike!

That's all I've got for this week. Email any questions or comments to
dkassel@fighthype.com
and I will answer them throughout the week. Your email may be featured in the next "Observe and Fight." Follow me on Twitter @BoxingObserver, and be sure to "Like" The Boxing Observer on Facebook.
[ Follow David Kassel on Twitter @BoxingObserver ]