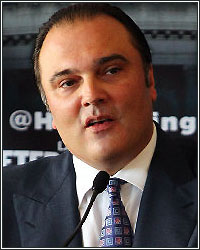 "I'm having conversations with Al Haymon about November 2nd and November 9th. November 9th, we want to do a pay-per-view from the MGM Grand. I want to do a big event there, a big card, and put some of those exciting fights on November 9th, and use November 2nd and October 26th, those two weekends before November 9th as a lead-in for that pay-per-view," stated Golden Boy Promotions CEO Richard Schaefer, who spoke to FightHype.com about his plans to stage a "boxing extravaganza" pay-per-view event on November 9. According to Schaefer, the "dream card" will feature all-action fights that boxing fans will not disappointed with.

"I'm trying to really put a boxing extravaganza together for November the 9th, and if we are going to be able to pull off what I'm working on, I think fight fans and sports fans are going to be extremely pleased," Schaefer continued. Many industry insiders are speculating that WBA welterweight champion Adrien Broner will headline that event, likely defending his title against former jr. welterweight champion Marcos Maidana. Though Schaefer did not confirm nor deny the possibility of Broner being on the card, he did say that several other names familiar names will be matched in competitive 50/50 fights that will entertain fans even more than their recent "Knockout Kings II" card.

"I think the fact is if you want to be on pay-per-view, you need to have the right dance partner, so if we can get a fight done with the right dance partner, I do believe Adrien Broner could certanly be on that November 9th pay-per-view. But there are other names which could very well be on that pay-per-view as well, so that's what I'm working on," Schaefer explained. "I don't want to really let the cat out of the bag. I want to sort of like get my stuff done; put together a dream card of fights which are 50/50 fights which are as entertaining as the card we've seen a couple of weeks ago from San Antonio. People said that was one of the best cards boxing has ever seen. I'm going try to top it. I'm going to try to top it for November the 9th and make this truly an all-action card."
[ Follow Ben Thompson on Twitter @fighthype ]