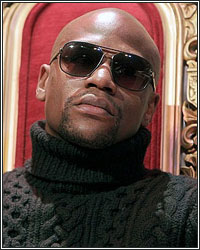 "A lot of times, I hit these guys and they go into survival mode," stated undefeated pound-for-pound king Floyd "Money" Mayweather, who strongly believes he can score a knockout against undefeated jr. middleweight champion Saul "Canelo" Alvarez when they step into the ring on September 14 for their highly-anticipated showdown. According to Mayweather, when the going gets tough, his opponents prefer survival rather than risk making a mistake and being knocked out.

"Even in the Robert Guerrero fight, I was looking for the knockout, but as y'all can see, my hand hurt; I hurt my hand in the fight. I think I hurt my hand around the 8th or 9th round, so I wasn't impressed with myself for that fight because I didn't get the knockout, but this time around, I'm looking for the knockout," he explained. Indeed, Mayweather did appear to be coming on strong against Guerrero before suffering an injury that left his hand badly swollen after the fight.

Fortunately for him, however, the hand injury was not severe. "No issues. After the fight actually, I went to 3 different doctors, got 3 different x-rays, and everything is A-okay," Mayweather added. In less than 3 weeks, we'll find out if Canelo will be forced into survival mode, and if so, can Mayweather deliver the knockout that he says he's looking for.


[ Follow Ben Thompson on Twitter @fighthype ]