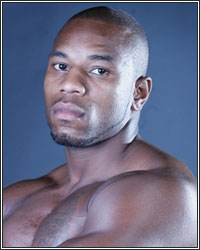 Seth "Mayhem" Mitchell calls it "do-or-die" and a "crossroads fight for both of us."

This Saturday, Sept. 7, former world title challenger Arreola (35-3, 30 KO's), of Riverside, Calif., meets former college football star Mitchell (26-1-1, 19 KO's), of Brandywine, Md., in a 12-rounder for the WBC Silver Championship in a battle of world-ranked heavyweights on SHOWTIME BOXING: Special Edition live on SHOWTIME® immediately following ALL ACCESS: Mayweather vs. Canelo Episode 3 Premiere which begins at 10 p.m. ET/PT, delayed on the West Coast.

Tickets for an event originally scheduled for Sept. 6 are priced at $105, $75, $55, $45 and $35 and are available at the Fantasy Springs Box Office, by calling (800) 827-2946 or online at www.fantasyspringsresort.com. All tickets bought for Sept. 6 will be honored on Sept. 7. Doors open at 4 p.m. PT and the first live fight starts at 4:05 p.m.

The 6-foot-2½-inch, 31-year-old Mitchell is coming off a 12-round unanimous decision over Johnathon Banks last June 22 on SHOWTIME. Getting his revenge against the only fighter who defeated him, Mitchell dropped Banks in the second round, bounced back after getting staggered a couple of times and then thoroughly outworked Banks in the later rounds to win by the scores of 117-109, 115-112 and 114-112.

"Banks hurt me in the third round, but I recovered and felt confident that I won. I thought I easily won eight of the 12 rounds. I was ready to go 12 and with my stamina, I could've gone 15 or 20," said Mitchell.

It was the first time Mitchell, who's ranked No. 2 in the WBC, No. 4 in the WBA, No. 8 in the WBO and No. 10 in the IBF, went 12 rounds.

Looking ahead, Mitchell, who trains in Clinton, Md., said, "This is going to be a hell of a fight. Arreola applies pressure and has a heavy punch. He's definitely the toughest opponent I've faced. But I'm ready, focused and excited. It's going to be electric and I'm just looking forward to me coming out victorious again. On Sept. 7, Arreola is going to have to back up all of the trash he's been talking.''

Offered Mitchell's trainer, Andre Hunter, "Training camp went well. Seth is in fighting shape so we've been working on other things besides just conditioning. I have nothing but good things to say about Arreola. He's a good boxer, he comes forward and he throws lots of punches. He puts a tremendous amount of pressure on his opponents and overwhelms them with his abilities. With that being said, Seth can win. We have a great game plan for this fight and are looking forward to returning to SHOWTIME."

More on their upcoming fight and their past camps from Mitchell below:

SETH MITCHELL

(On the fight)

"I look at this as a crossroads fight for both of us. He's coming off of a loss, and I just avenged my loss to Banks. This fight would have had more steam if he hadn't lost to Stiverne and I hadn't lost to Banks, but this is a fight I've been talking about. I think our styles complement each other and mesh well. It's going to be a great fight.

"He's a hell of a fighter and I'm a hell of a fighter. The only thing I give him the advantage of is experience. I don't concede anything else. As far as speed, power or boxing IQ, I'm just as good or better than him. He does have more experience, but I know that I'm learning each and every fight.

"It's a do-or-die fight. I don't mean that if you lose this fight, your career is over. But it is a huge, huge setback. I've gotten tremendously better over the last 15 months and I just want to show that. This sport is so unforgiving you have to be a quick learner. If I want to stay where I'm at, I have to continue to learn and continue to win. I had to win the second Banks fight to show I've improved from fight to fight.

"It's just going to be me and him in that ring and no one else. Arreola has power, he comes forward and he can box. [Yet] every time he's stepped up in competition, he has lost. It should be an exciting fight for as long as it lasts. This is a big fight for me and I'm excited to be back on SHOWTIME. I'm looking forward to seeing all my supporters in California.

"When the stakes are this high, it's a high-risk, high-reward situation. Some people look at this as a cash-out fight for me. I look at it as a cash-in fight.

"I know Arreola is coming and when you fight him, you've got to be in shape. This fight I expect will be totally different [then the one with Banks]. Chris is going to bring it. He's a come-forward fighter who throws a lot of punches. I'm not expecting him to sit out there and try to outbox me.

"I don't feel comfortable talking about my strategy. I 'm just going to be very prepared. My trainer and I have put together several game plans in case he comes in with something different than we've seen before. After the first couple of rounds, we'll figure out which game plan is going to work best.''

(Training Camp)

"I've worked extremely hard, I'm already in fight shape and I feel great. I'll be mentally and physically prepared to fight Arreola on Sept. 7.

"I take this sport very seriously. I treat my body very well. I train hard and I'm always in shape. [Going into the Banks rematch] it was always a question whether I could go 12 rounds, because I never went the distance. But as far as getting tired, that was the last thing on my mind in that fight. The way it was fought, I could have fought 20 rounds like that.

"The way I spar and train, even when I hit the mitts, we're well over 100 punches per round. Towards the latter part of my training camp, I spar 12-14 rounds against two or three sparring partners that are coming in fresh. Conditioning is not going to be an issue with me.

"I got back in the gym two weeks after my last fight. We just worked on me getting better as a fighter, working on my defense and things of that nature. It's the same preparation, just a different opponent.

"We're just focused on Arreola. I'm expecting the best Arreola, and we'll see what happens from there.''

For more information, visit www.goldenboypromotions.com and www.fantasyspringsresort.com, follow on Twitter at www.twitter.com/GoldenBoyBoxing, www.twitter.com/SethMayhem48, www.twitter.com/efrainboxing and www.twitter.com/fantasysprings and visit on Facebook at www.facebook.com/GoldenBoyBoxing and www.facebook.com/fantasysprings. For information on SHOWTIME, visit http://Sports.SHO.com, www.twitter.com/SHOsports and www.facebook.com/SHOBoxing.