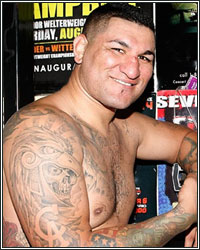 Chris "The Nightmare" Arreola calls it a "must-win" and may retire if he loses.

This Saturday, Sept. 7, former world title challenger Arreola (35-3, 30 KO's), of Riverside, Calif., meets former college football star Mitchell (26-1-1, 19 KO's), of Brandywine, Md., in a 12-rounder for the WBC Silver Championship in a battle of world-ranked heavyweights on SHOWTIME BOXING: Special Edition live on SHOWTIME® immediately following ALL ACCESS: Mayweather vs. Canelo Episode 3 Premiere which begins at 10 p.m. ET/PT, delayed on the West Coast.

A gallant Mexican warrior who'll forever be remembered for his classic four-fight series with Israel Vazquez on SHOWTIME, the respected former two division world champion Rafael Marquez (41-8, 37 KO's), of Mexico City, will take on Efrain Esquivias (16-2-1, 9 KO's), of Gardena, Calif., in the 10-round co-feature from Fantasy Springs Resort Casino in Indio, Calif.

Tickets for an event originally scheduled for Sept. 6 are priced at $105, $75, $55, $45 and $35 and are available at the Fantasy Springs Box Office, by calling (800) 827-2946 or online at www.fantasyspringsresort.com. All tickets bought for Sept. 6 will be honored on Sept. 7. Doors open at 4 p.m. PT and the first live fight starts at 4:05 p.m.

The 6-foot-3 ½-inch 32-year-old Arreola spent the last six weeks training in Phoenix. The purpose of relocating (along with trainer Henry Ramirez) was to guarantee that Arreola, notorious for playing hooky from the gym, would not miss a day of gym time. Arreola had a six-fight winning streak end in his last start when his nose was broken during a 12-round decision loss to Bermane Stiverne on April 26.

"This is a must-win fight,'' said the WBC No. 3- and WBO No. 9-ranked Arreola, who challenged Vitali Klitschko for the world heavyweight title in 2009. "I respect his conditioning and his determination to be somebody. Mitchell was a good football player, but I've been in this game too long to lose to somebody like that. If I lose to some guy like Seth Mitchell I would seriously contemplate retirement. I'm not a gatekeeper and I never want be that guy you beat so my name looks good on your resume. I'm not that kind of a fighter. I'm a world-class athlete, a world-class boxer.

"It took me until I was 32 but I've finally grown up a little. For once, I'm doing what it takes to give myself the best chance to win. I've always been my own worst enemy, but this time it's not like that. I've got to make sure I walk the walk, and that everything I say I'm going to do happens.

"I've always been my own biggest problem, my own worst enemy. I can't blame anybody else. I work my butt off once I'm in the gym, but getting to the gym wasn't always automatic. I'd always come up with excuses for not going. Out in Phoenix, we only had one car, and Henry did all the driving. He also had the only key. So relocating paid off. I put in the time. I did my training camp the way I've always supposed to be doing it. All I did was concentrate on boxing.''

According to Ramirez, "Chris can't train at home, simple as that. His preparation before the last fight was no-where near what a professional fighter at that level should have - no-where near. Mitchell is a good fighter. I don't necessarily feel he's at that top, upper-echelon level that some are putting him at but he's still a dangerous opponent. He's coming off a victory over a guy that knocked him out. So, mentally, he's overcome a hurdle -- he beat the guy that knocked him out.

"I would expect him to be fully confident and to be the best Seth Mitchell that there is. What that is, I really don't know. But I know it's not enough to beat Chris. It's been a different Chris for this camp. I knew everything he was doing. We went to the gym together. He didn't have access to a car. There weren't any missed days. Chris showed up for workouts twice every day. Mitchell is not going to benefit from an unprepared Chris Arreola, I can guarantee that."

More on their upcoming fight and their past camps from Arreola below:

CHRIS ARREOLA

(Training Camp)

"It was totally my idea to relocate and go to Phoenix. We've trained in Las Vegas, Houston, Big Bear, places like that. But they were not quite far enough away. For this camp I wanted to be far away, but close enough. When I'm in Riverside, I find reasons not to train. In Phoenix, I didn't have the opportunity to go out.

"I was in Phoenix for six weeks. It was disgustingly hot and muggy. It was like a sweatbox, but it made me work and I like it that way. Training in Phoenix kept me under the radar; not many people knew I was there. I was at the gym twice a day. I did my boxing in the morning, my cardio in the evening. All I did was box. I feel amazing and I trained and sparred with guys who worked my butt off.

"I always schedule two training sessions a day before a fight. The thing about this one, I had to go with Henry every time. I actually do work if I'm in the gym. The problem has never been my work ethic. My problem was getting to the gym.''

(On the fight)

"If there is one word that describes me for this fight that word is 'motivated.' I'm motivated, much more than in the past. I'm motivated to beat this guy, to put him on his butt and in his place. There's no way this man should beat me.

"The main thing is, I cannot give Mitchell any opportunity to win this fight at all. It's all on me and that's why I've put in the time.

"People say he can't take a punch. Well, I can't rely only on hitting him on the chin. I have to make sure and throw combinations and move my head. This is the heavyweight division. Sometimes, one punch can change everything but other times one punch is not good enough.

"My nose hasn't given me any problems, and it is fine. I've got such a big nose. I broke it in four different places. He hit me with that right hand and just shattered it. I had surgery on May 10 and was able to start running again six weeks after that.''

For more information, visit www.goldenboypromotions.com and www.fantasyspringsresort.com, follow on Twitter at www.twitter.com/GoldenBoyBoxing, www.twitter.com/SethMayhem48, www.twitter.com/efrainboxing and www.twitter.com/fantasysprings and visit on Facebook at www.facebook.com/GoldenBoyBoxing and www.facebook.com/fantasysprings. For information on SHOWTIME, visit http://Sports.SHO.com, www.twitter.com/SHOsports and www.facebook.com/SHOBoxing.