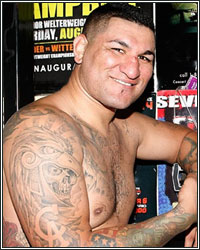 Chris Arreola (35-3, 30 KO's), of Riverside, Calif. and Seth Mitchell (26-1-1, 19 KO's), of Brandywine, Md., got into a heated verbal exchange during Wednesday's final press conference for their 12-round heavyweight showdown for the WBC Silver Championship this Saturday, Sept. 7, on SHOWTIME BOXING: Special Edition live on SHOWTIME® immediately following ALL ACCESS: Mayweather vs. Canelo Episode 3 Premiere, which begins at 10 p.m. ET/PT (delayed on the West Coast).

In the 10-round co-feature from Fantasy Springs Resort Casino in Indio, Calif., former two-division world champion Rafael Marquez (41-8, 37 KO's), of Mexico City, will take on Efrain Esquivias (16-2-1, 9 KO's), of Gardena, Calif., in a featherweight bout.

Tickets for an event originally scheduled for Sept. 6 are priced at $105, $75, $55, $45 and $35 and are available at the Fantasy Springs Box Office, by calling (800) 827-2946 or online at www.fantasyspringsresort.com. All tickets bought for Sept. 6 will be honored on Sept. 7. Doors open at 4 p.m. PT and the first live fights start at 4:05 p.m.

Here's what former world title challenger Arreola and Marquez said Wednesday from El Paseo Inn Restaurant on historic Olvera Street in downtown Los Angeles:

CHRIS ARREOLA, Former World Title Challenger

"He [Mitchell] says every time I've stepped up I've lost. You're not a step up, I'm stepping down to you. You're way down here. You're a step down and remember that. I didn't have to run the combine or do the 40-yard dash because trust me I do a six-second 40-yard dash and I don't bench press. That's not what I do. I'm a boxer and I've been boxing since I was 7 years old. I didn't just start boxing just because I couldn't cut it in the NFL or couldn't cut it in football.

"I've been boxing my whole life and I'm going to prove it on Saturday night. I'm going to show you that you don't belong in this sport. I'm telling you I'm more prepared for this fight than I've been in a long time. I'm motivated.

"If this man beats me, then I'll consider retirement because there's no way this guy could beat me. Not the way I've trained. This guy is nothing to me. I respect his stamina and his power. I respect every heavyweight's power so I have to mind my p's and q's.

"He's going to regret he took this fight. I'm going to make him fight every minute, every second of every round. Don't forget to bring your football helmet because you're going to need it.

"The difference between this training camp and any other is that I was in Arizona and not Riverside. I've been at the gym every morning and every night.. This time there's no one to blame but me. It's all on me. I'm the one who goes to the gym or doesn't go to the gym. I'm the one who cuts corners. Me. And that's something I had to get away from. Get away from home.

"There was only one car and one car key. Henry took me to the gym every day and made sure I was there. My cardio is way up, so much better than my last fight."

RAFAEL MARQUEZ, Former Two-Division World Champion

"Being retired never entered my mind. I took some time off and came back with [current trainer] Nacho [Beristain] because I feel like I still have something to prove to the fans.

"I've signed [with Golden Boy Promotions] for four fights, but my mind is on this fight right now.

"I hope he comes forward because that's exciting for the fans. Everyone knows that's my style and I want to make the most exciting fight for my fans.

"I have a lot to prove. I want to be a world champion again."

HENRY RAMIREZ, Arreola's Trainer

"Moving his training camp to Arizona got him out of the norm and we're in great shape. There's nothing left now to do but get in the ring on Saturday.

"It's finally good to see [Mitchell] speak up a little bit and show a little fire. It's the heavyweights and it's good for interest in the fight. Something we said got under his skin. I don't know what it was but it was something. Both guys are highly motivated and it's good to see."

ERIC GOMEZ, Golden Boy Matchmaker

"These are the two most exciting heavyweights on earth. You are not going to want to miss this fight. When you have Mayhem (Mitchell) and Nightmare [Arreola] you're going to have a storm. You can just feel the intensity right here."

For more information, visit www.goldenboypromotions.com and www.fantasyspringsresort.com, follow on Twitter at www.twitter.com/GoldenBoyBoxing, www.twitter.com/SethMayhem48, www.twitter.com/efrainboxing and www.twitter.com/fantasysprings and visit on Facebook at www.facebook.com/GoldenBoyBoxing and www.facebook.com/fantasysprings. For information on SHOWTIME, visit http://Sports.SHO.com, www.twitter.com/SHOsports and www.facebook.com/SHOBoxing.