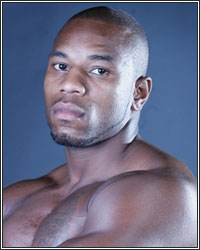 Chris Arreola (35-3, 30 KO's), of Riverside, Calif. and Seth Mitchell (26-1-1, 19 KO's), of Brandywine, Md., got into a heated verbal exchange during Wednesday's final press conference for their 12-round heavyweight showdown for the WBC Silver Championship this Saturday, Sept. 7, on SHOWTIME BOXING: Special Edition live on SHOWTIME® immediately following ALL ACCESS: Mayweather vs. Canelo Episode 3 Premiere, which begins at 10 p.m. ET/PT (delayed on the West Coast).

In the 10-round co-feature from Fantasy Springs Resort Casino in Indio, Calif., former two-division world champion Rafael Marquez (41-8, 37 KO's), of Mexico City, will take on Efrain Esquivias (16-2-1, 9 KO's), of Gardena, Calif., in a featherweight bout.

Tickets for an event originally scheduled for Sept. 6 are priced at $105, $75, $55, $45 and $35 and are available at the Fantasy Springs Box Office, by calling (800) 827-2946 or online at www.fantasyspringsresort.com. All tickets bought for Sept. 6 will be honored on Sept. 7. Doors open at 4 p.m. PT and the first live fights start at 4:05 p.m.

Here's what former college football star Mitchell and Esquivias said Wednesday from El Paseo Inn Restaurant on historic Olvera Street in downtown Los Angeles:

SETH MITCHELL

"Make no mistake about it, this was a fight that I wanted. I don't talk a lot in the paper. I don't Tweet. This is the fight that I wanted. Chris Arreola is a great fighter. He comes forward and applies a lot of pressure. But I don't see anything special. Nothing I can't take care of on Saturday.

"Every time Chris Arreola has stepped up he's lost. He and his trainer do a lot of talking. But just know that I'm prepared and they can say whatever they want to say but they are going to have a fight on the 7.

"I've worked hard and I'm ready for this fight. I have speed, power and size. I'm the complete package.

"SHOWTIME puts on exciting fights and our styles complement each other so it's going to be a great fight. If I was a betting man I know where I would put my money.

"I started late so I know there's a lot to learn, but on the flip side I haven't taken a lot of punches, either."

EFRAIN ESQUIVIAS, Featherweight Contender

"I want to fight the best fighters out there and I thank Thompson Boxing Promotions and Golden Boy Promotions for making this fight happen. I'm coming in real strong and ready to show boxing fans that I'm capable of competing for a world title. I'm not an opponent; I'm here to win.

"The fans are going to see a great fight. I don't back down and neither does Marquez. My team and I created a great game plan and we're hungry for this fight.

"Most people in the sport know about my father passing away from ALS. He's the one who gives me the strength to continue. His spirit lives within me and he's the reason why I fight.

"We went hard during our training camp to be fully prepared for whatever Marquez throws at us. I view myself as the favorite. That's no disrespect to Marquez, he's a future hall of famer, but I always feel like I'm the best boxer in the ring.

"It would mean the world to me to beat Rafael Marquez. Some people say he has lost a step, but I don't think so. Look at his brother, Juan Manuel Marquez. These guys are built for longevity."

ANDRE HUNTER, Mitchell's Trainer

"Training has been going great. Both the guys are in great shape. We've been studying a lot of film. You can say this is his biggest fight but Johnathon Banks was probably just as big. It was on the same level."

ALEX CAMPONOVO, Thompson Boxing Promotions

"We love it all. This is what boxing needs: two hungry guys going for it all and vying for a shot at a world title."

For more information, visit www.goldenboypromotions.com and www.fantasyspringsresort.com, follow on Twitter at www.twitter.com/GoldenBoyBoxing, www.twitter.com/SethMayhem48, www.twitter.com/efrainboxing and www.twitter.com/fantasysprings and visit on Facebook at www.facebook.com/GoldenBoyBoxing and www.facebook.com/fantasysprings. For information on SHOWTIME, visit http://Sports.SHO.com, www.twitter.com/SHOsports and www.facebook.com/SHOBoxing.