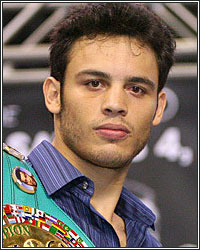 Moments ago at the StubHub Center in Carson, California, former middleweight champion Julio Cesar Chavez Jr. made a successful and controversial return to the ring, defeating game challenger Bryan Vera via unanimous decision over the course of 10 rounds. After a year layoff, it didn't take long for Chavez Jr. to shake off the rust as he quickly found a home for his left hook early on in the fight. Vera, however, was able to take his best punch, and as the rounds went by, he appeared to be the busier fighter as he landed several combinations. The pace of the fight saw Chavez Jr. tiring as Vera came on strong, but surprisingly, the judges saw a different fight.

The bigger Chavez came out defensive in round 1 as Vera pressed the action backing him up. Chavez Jr. looked a little sluggish in the first couple of minutes, but he easily found a home for his left hook, both upstairs and downstairs. Vera came out more aggressive in the round 2, throwing punches in bunches and landing his fair share, but it was Chavez Jr. who was landing the heavier, more telling blows.

A smiling Bryan Vera turned up the heat even more in round 3 and round 4 as he continued to press the action. Although Chavez Jr. still landed the occasional big shot, it was Vera who was staying busier and landing more shots. The fight broke out in round 5 as both fighters landed their share of shots. Chavez Jr. would land a huge right hand in round 6 that momentarily rocked Vera. Although Vera shook it off and kept coming forward, Chavez Jr. continued to land big shots throughout the round.

Rounds 7 and 8 saw the fight taking it's toll on both fighters. Chavez Jr. still landed big shots, but the pace of Vera had him breathing heavy and reduced to one punch at a time. Vera continued to land combinations in round 9 as Chavez Jr. appeared to be taking a breather. Vera came out even more active in the final round, while Chavez Jr. stalked for a knockdown that would never happen. Although most observers felt that Vera clearly did enough to earn the victory, in the end, the judges scored the bout 96-94, 97-93, and an unbelievable 98-92 in favor of Chavez Jr.
[ Follow Ben Thompson on Twitter @fighthype ]