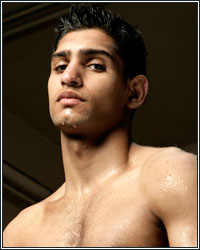 On Wednesday, representatives of former jr. welterweight champion Amir Khan sent out an official statement denying reports that a deal had been reached for a potential showdown with undefeated pound-for-pound king Floyd Mayweather. According to the press release, Khan is currently in San Francisco where he has already started training camp "with the aim of fighting again in December against Alexander once an agreement can be reached." While it's true that Khan is indeed in San Francisco working with world-class trainer Virgil Hunter, FightHype.com has learned that the statement isn't entirely 100% accurate. Sources close to the information have reiterated that a clash between Khan and IBF welterweight champion Devon Alexander is "definitely not happening." In fact, we're told that neither Khan nor Alexander will be fighting on the December 7 card at Barclays Center.

It's unclear as to why the fight is not taking place, but according to one source, Khan will be returning against "someone totally different", though who that someone is and what date that will be is still a mystery. Furthermore, we were informed that the decision to move Alexander to another date has already been made. When FightHype.com first broke the news last week that Alexander vs. Khan would not be happening, there had already been discussions about giving former undisputed welterweight champion Zab Judh the opportunity to face Alexander. Brooklyn native Paulie Malignaggi was also contacted about the possibility of facing undefeated welterweight contender Shawn Porter. According to another source, however, both of those ideas were quickly scrapped due to a difference of opinions when it came to the finances.

Now, it looks like there's a strong possibility that Judah and Porter could face each other instead on the December 7 card, while Alexander and Khan go in different directions. Whether or not a potential Porter vs. Judah clash would become the main event remains to be seen, however, it definitely won't be the only fight with a familiar name. Enter former welterweight champion Victor Ortiz, who just last week informed his fans via Twitter that he too was returning to the ring on December 7.


Me han dicho que regreso el 7 De Deciembre!!! Que se Llegue rapido por que ando con ambre #CoachHoss #CoachSmith pic.twitter.com/yENvX5NHPf

— Victor Ortiz (@VICIOUSortiz) September 24, 2013
Translated, he stated, "They've told me that I return on December 7th. I hope it gets here fast because I am hungry." Though he did not name an opponent, I would not be surprised if Ortiz faced former Contender star Alfonso Gomez, who he was originally set to face in September before scrapping that fight in favor of an acting role in the upcoming Expendables 3 movie. That being said, I also wouldn't rule out a potential rematch with either Josesito Lopez or Andre Berto, though that might be asking too much of Ortiz considering that he hasn't fought in over a year and is coming off of back-to-back losses as well as back-to-back jaw surgeries. Furthermore, both Lopez and Berto are also coming off injuries.
As of this writing, none of the potential fights have yet to be finalized, but they are all being considered for the December 7 card at Barclays. What is no longer being discussed, however, is the proposed clash between IBF welterweight champion Devon Alexander and former jr. welterweight champion Amir Khan. So like the title says, don't hold your breath for Alexander vs. Khan because it's not happening.
[ Follow Ben Thompson on Twitter @fighthype ]